By Jimitota Onoyume,   Port Harcourt
Donu Kogbara, Vanguard columnist, looked calm as she spoke to journalists who rushed to her residence as news of her release by kidnappers filtered into Port Harcourt, Rivers State capital, yesterday morning.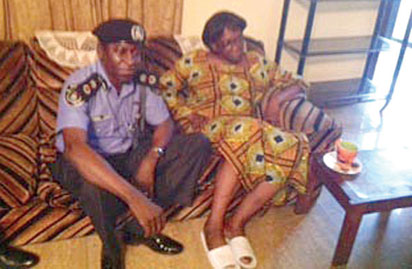 The state Police Commissioner, Mr Musa Kimo, was probably her first visitor about 6:30 am when Sunday Vanguard got there. It was clear she had just finished sipping a cup of Lipton tea. The empty tea cup was still on the  table by her side.
Occasionally, she laughed as she tried to make light her experience in the hands of the kidnappers.
"I was dumped in the middle of the creeks, leading to nowhere around 10 pm on Friday. And they forced an innocent fisherman to take me to Borokiri", she recalled, laughing.
You could see desperation on the part of the journalists to catch every word that came out of her as she responded to their questions.
"I am very happy to say that I have been released. I am alive, that is all that matters despite all the things that were lost in the robbery that preceded the abduction. I thank Vanguard Newspaper, my paper, for the love and support that I received from my colleagues and Uncle Sam Amuka, the publisher. He was actually the first person called when I was abducted", Kogbara said.
She paused. Then suddenly there was general laughter as she recalled how much the kidnappers put on her as ransom.
"I told them I was not worth what they demanded for", she said.
According to her, before they whisked her away from her Port Harcourt residence in the early hours of August 30, the abductors first robbed the family of cash and jewelries. Then, they blindfolded her and took her straight to the creeks,
"Before we left the house, they took my money and jewelries, though the money was not much", the Vanguard columnist narrated.
"I was taken to the creeks, middle of nowhere. They actually told me I was in Cameroon. But I have been told that probably was not the case."
On the allegation in some quarters that her abduction could have been politically motivated, Kogbara said though the kidnappers expressed political sentiments in the creeks, no revelation came out of them. She added that they code named politicians "official hoodlums".
"I don't see any politician behind the mask. I have to tell you that these boys claimed they had helped certain politicians win elections in the past but that is not what we can discuss here. I don't know if you can believe what they say.
"The political element was, em! They were a little bit confused in my opinion, because they were upset that former President Goodluck Jonathan had been defeated by a northerner, but, on the other hand, they were also very unhappy with Goodluck (Jonathan) because they felt he had not done much for the Niger Delta.
"I saw politics here and there. They had a grudge against a former governor of Rivers State, Rotimi Amaechi, for not supporting Goodluck Jonathan but then they also had a grudge against the current governor. Actually, in the end, they told me it was a war against big men; to them, big men are politicians. They called them official hoodlums".
Asked if the kidnappers were enlightened, she said some were but most of them were not highly educated.
Again, Kogbara laughed as she responded to a question on how they fed her.
"Their meal, it was not bad. Considering that they were young men, they cooked rather well. But the conditions were not very sanitary", she said.
"Did they respect your medical condition in the choice of meal?", a journalist shot back.
"To be fair to them, when I complained of not having my blood level medication, they actually went out and bought some for me. It was much more complex than that."
On how she was abducted, Kogbara said it was a story her mother, Mrs. Ann Kogbara, will be in a better position to tell because she (Donu) was dazed that morning when she suddenly saw strange men in her room. "Honestly, I was so confused. I woke up in my bedroom to see men. My mother can tell how many they were. Because, honestly, I was in a daze. They took me out, blindfolded me and off we went", she said.
She had sweet words for the Rivers State Police Command.
Her words: "There is hardly anybody I know who does not know somebody who has been abducted or robbed in the last couple of years. Fortunately, we have a dynamic new Commissioner of Police who has hit the ground running and seems absolutely determined to confront this menace to our society".
Commissioner of Police Kimo was elated at Kogbara's release.
"Today is a great day. I am extremely happy. My joy knows no bounds because our sister, Donu Kogbara, is back with us. It is due to the mercy of God. I thank the President of the country, my Inspector General of Police who kept calling to guide me. I thank the media for their role, the family for their faith in God. Finally, she is back with us, today is my greatest day. I am very happy", he said.
Kogbara's mum celebrated her daughter's release with tears of joy.
"Words cannot express what I feel. I cried while she was away. I answered everything with tears", she told Sunday Vanguard.
Kogbara was whisked away from her residence in the early hours of Sunday, August 30 by armed young men reportedly in police uniform.
Governor Nyesom Wike; Rivers Police Commissioner Kimo; Chairman, Rivers State chapter of the Nigerian Union of Journalists, Mr Ayo Tamuno were, among several others, who condemned her abduction and also appealed for her unconditional release.
Niger Delta activist, Ms Ankio Briggs, said the abduction was painful.
"I am against activities that take away the right of anybody which include kidnapping. Kidnapping is a criminal act, it dehumanises a person no matter the reason. Thank God she has been released", she told Sunday Vanguard.
Chairperson, Ijaw Mothers Union, Doris Mcdaniels, said she was deeply disturbed by the abduction, expressing gratitude to God following the news of her release.
"Ijaw mothers were very pained by the ugly development. It is scary, sad. Before now, we thought women were protected. We thank God for the good news", Mcdaniels stated.
"Those behind this should leave women out of it. We are not fit for the tension, trauma kidnapping exposes people to. I don't pray anybody goes through this, whether man or woman but they should please leave women out of this because we are the weaker vessel.
"It is worse when a woman is kidnapped because the home is shut down entirely".
Chairman, Isoko South local government area, Delta State, Mr Ikpokpo Itiako, who also appealed for Kogbara's release, said he was happy when he saw it on social media that she had regained her freedom.
"I have read Kogbara in Vanguard newspaper for years . I was deeply touched by her abduction. I was so happy this morning when I saw photos of her and the Rivers State Commissioner of Police. It is good to hear she had been released" , he said.