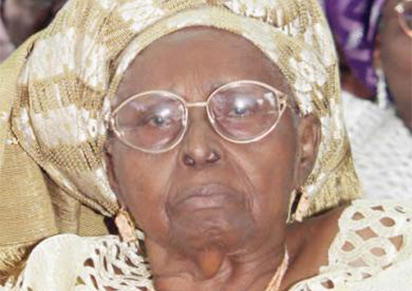 HID Awolowo
…Birthday aso-ebi to serve as burial dress
By Daud Olatunji, Abeokuta
If death were to be a kidnapper and had placed a hefty ransom on Chief  (Mrs.) Hannah Idowu Dideolu Awolowo,  there is no doubt it would have been readily paid so that the nonagenarian and the only surviving matriarch of the Awolowo dynasty will live longer than her 99 years.
Indeed the calibre of people who have been trooping to the Ikenne home of the late foremost politician and first Premier of Old Western region, Chief Obafemi Awolowo few hours after the death of his wife, attests to this. Yes, death would have had no choice but to allow the highly influential woman to at least celebrate her 100 years birthday slated for November 25,2015.
She was born November 25,1915 and  died Saturday September 19, 2015 just 67 days to a record centenary birthday. Record has shown that Mrs Awolowo  died exactly 28 years after the passage of her husband, Obafemi Awolowo.
Centenary celebration
Investigations revealed that there had been  preparation  for a centenary celebration of Yeye Oodua as early as August with many prominent Nigerians, particularly in the South West, said to have been  approached  by the family members and the centenary committee urging them to participate by sending in their goodwill messages for collation ahead of the expected centenary celebration.
She died  after a brief meeting with family members.
According to former president, Olusegun Obasanjo: "Mama has decided to leave us before the centenary;  maybe her interment will be celebrated with the centenary .You don't need to be downcast,  Mama should be celebrated."
The eldest child of the Awolowo family, Omotola Oyediran,  while giving the details of how the matriarch died said: "I want to assure you that Mama had a beautiful exit. This morning she had a full day. She had a usual family meeting. She presided over the meeting. Shortly after that,  we decided to invite her to the meeting which we were holding in preparation for her centenary and she came in and we all got up and sang a song: 'Mama wa ara yin ale (Our mother you will have sound health…)' and she blessed us.
"But, I must say that it is a lesson. I must thank God for what He has done for us . I want to assure you that she went home peacefully  and completely fulfilled. Shortly before she left she had all her three  generations present  at her bedside for which  we give God the glory".
The Secretary to the State Government,  Taiwo Adeoluwa, in his reaction said the death of HID Awolowo was "very shocking in the sense that we were all preparing for her centenary .All through last week I was in contact with the members of the family because I am a member of the committee and we were trying to fine-tune the programme and the details for her centenary celebration. So  we were shocked when it happened.
"The government of Ogun State will be heavily involved. Just as we did when she was alive we will be fully committed; we will be fully involved in the burial. It has just happened.  What is sure is that we will stand shoulder to shoulder with the family members and will be heavily involved".
Former governor,  Otunba Gbenga Daniel also acknowledged that the cloths bought for the centenary birthday may be converted for burial purposes. He said: "In all things we must give thanks to God because it is not totally unexpected. Now that it has happened,  it is indeed the  end of an era.  Nigeria and the Yoruba have lost the last of the matriarch.
"We were preparing for the centenary birthday for November; in fact we bought cloths but, I guessed now that we have to now celebrate her passage ".
Since  the death occured,  Ikenne home of Awolowo has become a Mecca of sorts for prominent personalities who have continued to pay their condolences to the family.
Until her demise, she remained the Chairman of African Newspapers of Nigeria Limited, publishers of the Nigerian Tribune established in November, 1949 by her husband.  Nigerian Tribune  is among Nigeria's popular dailies and it is perhaps the oldest privately owned newspaper.