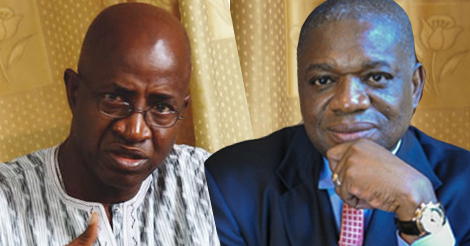 Odegbami and Kalu
WHEN Amanze Uchegbulam, Sani Toro and Paul Bassey raised objections to the aspirations of two eminent Nigerians – Dr Orji Uzor Kalu and Segun "Mathematical" Odegbami's ambitions to contest for the highest office of world football, the FIFA President, little did they know that they were preparing whips for their backs.
The trio who picked holes in the process of the declaration of interest by Kalu and Odegbami to contest for the FIFA Presidency as Nigerians working for CAF/FIFA said their declarations to that office amounted to an embarrassment to Nigeria.
But President of Africa Sports Journalists, ASJU, Mitchel Obi said that the three 'wise' men were indeed the ones embarrassing Nigeria by not allowing Nigerians to go for the highest office of world soccer-ruling body, FIFA.
''They are the ones who are embarrassing Nigeria by their myopic and selfish reasons of not allowing Nigerians join others in contesting for international positions. What rubbish! What is the big deal of not consulting them as Nigerians in CAF/FIFA? Must he consult them?", Obi, President of AIPS Africa and Vice President of the World body of Sports Journalists fired back on our hotline.
''We should grow beyond this idea of only me can do it in Nigeria. We should be concerned about the requirements and encourage them where necessary. What is the difference between Odegbami and Platini who is also seeking election to that office? He provided answers. One operated from Europe as a player while another made waves in Africa.
They all played the beautiful game and brought joy to many hearts. Didn't Figo also aspire to that same office? Or, is it because it is Odegbami or because he is a Nigerian? We must look at the ladder of progression and encourage Nigerians to go for different offices in sports.
That is the only way our sports and sportsmen and women can do well. International politics is everything and we lack Nigerians in those offices. Little countries who do not have anything are the ones deciding our fates in international politics. If not for Amos Adamu tell me who else we have? Perhaps the NOC President, Habu Gumel who is in
IOC. But his hands are full.
That is how we mismanaged our chances of hosting the World Cup in 2010. It was an African World Cup and what did we benefit when South Africa hosted it? We've to be pushing our people forward where they can influence decisions. I am happy these Nigerians have kindled interest in this office. Let's rekindle it and let it glow", Obi, a veteran and versatile Journalists with quality credentials of covering seven World Cup finals, six Olympic Games, two Wimbledon Championships and many African Cup of Nations finals said. He also speaks a cocktail of international languages.
''We don't need these distractions. Lets work together as one. We need to be politically alert. At the end, it is Nigeria that benefits not the individuals'', the President of Mastersports International noted.