By Yinka Kolawole, with agency report
The Federal Government is developing a blueprint to reduce cost of housing delivery in the country by 30 percent. Permanent Secretary, Ministry of Lands, Housing and Urban Development, Mr. George Ossi, disclosed this in a statement, signed by the Ministry's Director of Public Affairs, Mr. Ajibola Adedeji. He said the intervention would be carried out through the provision of land, infrastructure, and payment of compensation to land owners. He noted that the overall effect of the government's plan is reduction of the nation's 17 million housing deficit.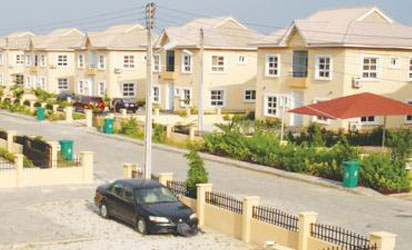 Ossi said a Committee on Affordable Housing Delivery set up by the Ministry to examine the blueprint for affordable and social housing delivery in the country has submitted its report. According to him, the report will assist government in its concerted effort to ensure provision of affordable housing for Nigerians.
He identified the need for direct government intervention to developers and off-takers in obtaining loans to finance housing projects and payment of compensation to original land owners.
The statement quoted Chairman of the Committee, who is Director, Planning, Research and Statistics in the ministry, Mr Aithelbert Mouka, as saying that access to adequate and affordable housing was recognised as a core human right by the United Nations (UN), General Assembly Article 25, 1948, the 1999 Constitution of Nigeria and the Vision 20: 2020 document.
"The committee identified the challenges to include affordability gap in home-ownership; dearth of long-term funds; inadequate capital and resource base for the primary mortgage institutions," he stated.
Meanwhile, a property developer has called on government to adopt international best practices in its quest to reduce the nation's housing deficit. Chairperson, Real Estate Developers Association of Nigeria (REDAN), Federal Capital Territory (FCT) Chapter, Hajia Binta Ibrahim, said government should involve all relevant stakeholders in its effort to boost housing delivery in the country. "Government needs to carry along association like REDAN, because there are speculators in the business as well.
We are talking about people that have stake and by this I mean developers who source for the land, do all the needed infrastructure requirements in the proposed estate that they are embarking on without receiving any assistance from the government. Those are the kind of people or companies that government should look for and assist. If it's a jack of all trade, people will sit in their house and they just get allocation, these people spoil the environment for the real developers.
What is required is for government to partner capable developers and then allocate these lands to them, then still assist them in pushing these developers to be able to get loan from banks to actualise their dream. This is the way out of the huge deficit. "But the problem still lies with certain group of people having vast land and yet they are not using it and they didn't get it for anything and they will come back to us developers to re-sell to developers for personal gains and these are virgin lands with no infrastructure.
So, tell me how these houses will be affordable, definitely, these houses will not be affordable because the estate developers buy lands, they put in infrastructure, they source funds from commercial banks and as you know these commercial banks offer flat interest rates for all borrowers for whatever the money is going to be used for," she stated.