By Evelyn Usman & Esther Onyegbula
LAGOS—Controversy is currently trailing a case of rape of a teenager, following her alleged detention and torture by policemen attached to Man Centre division, Ikeja, Lagos.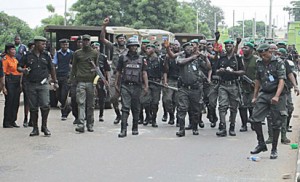 Vanguard gathered that a concerned Lagosian, identified simply as Emmanuel, reported at the station that the 16-year-old girl, Chidera, was allegedly raped by her father, one Mr Kelvin.
Subsequently, policemen were said to have effected the arrest of Kelvin and his wife. They were also said to have invited Chidera and her younger sister to the station, where they maintained that her father allegedly had carnal knowledge of her .
On his part, Kelvin told policemen that his daughter was mentally unstable. Surprisingly, the policemen were said to have detained Chidera while they released her parents. Close friends to the detained teenager were said to have made frantic efforts to reach the Commissioner of Police , Lagos, Mr Fatai Awoseni, to no avail.
To ascertain the claim, he said Police decided to carry out medical checks on Chidera , adding that the outcome of the result would determine their next line of action.
"She was not detained. Where on earth does such a thing happen, that a victim of rape will be detained? What happened was that she reported that her father allegedly raped her but when invited, he (father) said she was mentally deranged. On the basis of that, the Divisional Police Officer decided to to ascertain the claim before taking the case up. We are concerned about her health. She is under protective custody. If her father's claim is found to be false, he will be arrested and prosecuted", Offor said.