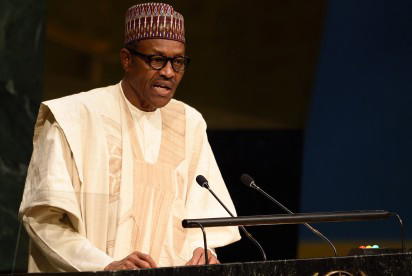 President of Nigeria Muhammadu Buhari addresses the 70th session of the United Nations General Assembly September 28, 2015 at the United Nations in New York. AFP
Nigerian President Muhammadu Buhari promised at the United Nations on Monday to rescue the schoolgirls kidnapped by Boko Haram fighters in 2014 and to defeat the Islamist militia.
Watch Video: Hundreds Of Boko Haram terrorists pray Eid in Sambisa Forest
"One of our major aims is to rescue the Chibok girls alive and unharmed," he said to applause during his first address to the General Assembly since taking office earlier this year.
Boko Haram fighters stormed a school in the remote northeastern Nigerian town of Chibok on April 14, 2014, seizing 276 girls who were preparing for end-of-year exams in an abduction that shocked the world.
Fifty-seven escaped, but nothing has been heard of the 219 others since May last year, when about 100 of them appeared in a Boko Haram video, dressed in Muslim attire and reciting the Koran.
Boko Haram leader Abubakar Shekau has since said they all converted to Islam and been "married off."
Buhari, who has promised to stamp out the group's bloody six-year insurgency, told the General Assembly that his government had put in place "a bold and robust strategy to defeat Boko Haram."
Nigeria, Cameroon, Chad, Niger and Benin had established a "joint task force to confront, degrade and defeat" the militia, Buhari said.
"We have driven them away from many of their strongholds, killed or captured many of their operatives or commanders and freed several hundreds of hostages," he said.