By Ebele Orakpo
Cerebral palsy (CP) is a disorder that affects muscle tone, movement and the ability to move in a coordinated and purposeful way. It is a non-progressive, non-communicable and incurable disorder usually caused by brain damage that occurs before or during a baby's birth or during the first three to five years of a child's life.CP causes different types of disabilities in the child.
A child may simply be a little clumsy or awkward, or unable to walk at all. In this interview, Air Vice Marshal Femi Gbadebo (OFR), Founder/CEO of  BENOLA, a CP Initiative, speaks on why he founded Benola and says families of disabled children need help.
Excerpts:
Retirement: 
I retired from the Nigerian Air Force (NAF) in 2008 and up to that time, I really wasn't clear about what I wanted to do with my retirement life but it was clear I did not want to work for somebody. I did not want a job that will take me away from home because I have a son who has special needs. He was born with CP in 1996 and, from 1996 till the time I retired, my wife (Mrs Alaba Gbadebo) managed him all by herself.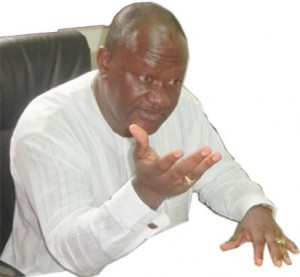 Yes, I will come home sometimes on weekends and sometimes for a couple of weeks but there were periods when I will be away for six months. Of course, I did my best, wherever I was, to try to find information and equipment to make managing him easier.
Proper upbringing:
It was clear that you need at least a man and a woman to manage a child very well and that is why you find a lot of mothers would tell a child when he misbehaves, to wait until the father returns because, somehow, the father handles the children differently from the mother.
The combined team of excess love from the mother and a little bit of realistic discipline from the father helps to mould a perfect child.
Now, when the child is special, it is even more delicate because you now have a situation where a mother may either  give up and reject the child or shower the child with excessive love as a kind of compensation for her own perceived shortcomings. It is natural for the mother to blame herself for the child's deficiency.
'Is it something I did or did not do when I was pregnant?' So there is over-compensation and this actually leads to over-dependency in a child with disability. For instance, a child of a low income earner, at the age of eight years, is trekking to school by himself whereas a 20-year-old child of an upwardly mobile couple is carried everywhere by a driver.
So the child of the upwardly mobile probably cannot cross the road by himself; the parents will not even let him try out of fear that something will happen. So you find over-protection and over- compensation.
Special child:
When the child is a special child, what  happens is that the child is not allowed to crawl on his own even if he can, or reach out to pick something; everything is done for him by the caregiver so the child loses certain potential skills that he would have had. So I felt I needed to be around my son more. So, from 2008 until when we started Benola, I spent a lot of time with him.
Going for surgery:
We had to take him to India for a major surgery. He had scoliosis, the twisting of the spinal cord. It starts slowly but, in his case, by the time he was 12 years old, it was so bad that his right lung was in danger of collapsing. The only comfortable position he could stay was lying on his stomach and, because he was drooling, that became a problem because he would always have pneumonia and there were so many complications.
We ended up spending five months with him in an Indian hospital. I had the opportunity to interact with doctors and I saw all kinds of cases. My knowledge base increased and, when I came back, I still was not thinking of doing anything about disability.
You may get passionate about it but the fact that you have a disabled child, from day one, makes you look at disability differently; makes you notice every disabled person on the road and makes you have feelings for them – compassion, pity. Unfortunately, there is not much you can do to help everybody.
I kept thinking of what we could do to change things. I benefited from the Air Force in terms of opportunities to travel abroad a couple of times and I took my son along. I have also benefited from friends, colleagues and even juniors who know about my son's condition and would get me things when they travel, mostly medications. So you wonder how parents without such support manage because it is really very expensive managing these children.
Before Benola:
In September 2012, I was asked to come and talk about disability and IT at a function because they knew I have a child with disability. I was an instructor pilot in the Air Force, teaching people how to fly. Later on, I went to Command and Staff College Jaji and then to Defence College as directing staff or moderator. So imparting knowledge, breaking things down in critical ways and analysing them, have been part of my life.
I felt I could help people in capacity-building – teach about leadership, management, human resource and so on, from the practical point of view. I tried to reach out to people. The audience would be very impressed and ask interesting questions but the organisers would not call me back. A friend of mine in October, invited me to this conference where I spoke on disability and I saw a response I had never seen before.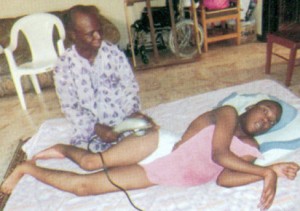 I had gone online and found all kinds of aids and I brought out quite a few things about what can be done to make people less stressed in managing the disabled – things like hoist to lift a child from a chair to a bed and bath chair to help you bathe them properly etc.
People asked whether I import these things and if I could provide them for families. I was like 'wow, you mean there is a hunger for this kind of information?'
Hunger for information:
There are a lot of homes and schools for the disabled but that is not it. As God works in mysterious ways, within a month, I came in contact with a medical doctor friend who  runs an NGO. Incidentally, people had been telling me to set up an NGO but I always associated NGOs with civil society organisations and felt I could not work for government for 35 years and then come back to fight government.
It did not look right and from my point of view, we don't need to fight government, we just need to help government come up with workable ideas and how they can be implemented. I told him about my experiences with talking and he said I needed to be branded.
'You cannot just be flying around as AVM, talking about this and that; you need to be branded, people need to know where you are coming from. Once they know, they can invite you to their programs as an expert and then your flying career becomes an added advantage. They are not bringing you to talk on disability as a pilot.' I didn't want to set up a home or school because they have failed in changing the perception about disability.
You see, we have a mindset here that the way to handle disability is to set up a home or school for the children; whether we have the expertise or not is another matter. Even if the founder has expertise, the staff are not properly trained and then there is no regulatory authority to check whether they are doing the right thing or not.
Priority:
Once you have 30 or so children in a bungalow, your priority becomes how to take care of them, keep the place running, pay your bills, pay the staff and so everywhere you go to speak, you are not really educating people about the problem or how to solve it, you are just presenting the problem in a way that attracts pity and then support for the home. This further adds to this image that all we need to do for these people is keep them alive, give them food. I want to change the way people look at disability; so I had to study to better understand CP.
Three years ago, I could not look at you and tell you that CP cannot be cured. Yes, it is written in books but before you say it, people are challenging you, 'do not say that', but we have to get over that.
Benola – A CP Initiative:
Benola stands for me in the sense that I am coming from a father whose name was Benjamin and he taught me certain values; I have a son, Olaoluwa who has taught me a lot of things about pain, perseverance, endurance and God knows what. The two of them put together are actually me in a way and that is what Benola is.
Then CP Initiative is just added for people to understand. But from the beginning, I had a vision of a brand. One of the best things I got out of Lagos Business School apart from financial management, is branding. We came up with the name and colours. Green is the colour of CP and my wife likes pink and that is where the pink comes from. My ultimate goal is to have a situation where when you say BENOLA, people will know you are talking about CP.
We are doing something radically different to change the face of CP and CP management in this part of the world. We need advocacy, counseling for parents, capacity-building for caregivers and to be able to refer people because we are not managing or treating. We just make noise, people come and we must be able to send them to relevant places for management.
My son:
We realised we needed to include families in our programs so in July, we had our first Family Forum. The issues with CP are stigma, fear and reality. You see, my son is fully dependent which means he cannot do anything by himself; he wears a diaper at 19 now.
He has a feeding tube through which he takes most of his medications. He can eat to some extent but he does not drink liquids. He has a rod in his back to help straighten the spinal cord and they secured it in some crazy way so he is so delicate that we cannot afford to move him around.
Bringing experts together:
We got together experts – doctors, special education people and caregivers (about 34 from different parts of Nigeria) and did a workshop. In the end, we came out with a communiqué. We started bringing families together and we went on social media; that was where Prof Joanne Umolu, Founder/Director of Open Doors for Special Learners, Jos, saw Family Forum.
She sent me an email saying she has a teacher that will be a blessing to us. Eventually, the lady, Uche Madueke, popularly called Miss Courageous, came and she blew our mind. She has a Diploma in Special Education from UNIJOS. She is such a warm loving person. She became Benola Ambassador alongside Oluwabusola Akinsola, a Project officer at the Children Developmental Centre (CDC), Surulere. She holds a master's degree in International Economics & Trade from the London Metropolitan University.
They showcase what we are doing and are proud to be featured. As of June 2013, you couldn't find the picture of a Nigerian child with CP in the media. We are changing that now.
Benola Roadmap for CP:
We did a few more workshops and came up with a document which we called Benola Roadmap for Cerebral Palsy in Nigeria. It contains a good deal of information about CP, child rights, government's position, etc. For instance, I now know that government has a provision for free medical care for every child under the age of five but how do you access it? The machinery is not there.
There is a School of Occupational Therapy in Oshodi, they graduate people yet, the government is not employing them in hospitals, but a few of them are in private practice. When the book came out, we wrote to almost all the governors and organisations but got no response except from former Gov. Fashola through his wife, who got a copy. He gave us a bus and promised to give us land to build a centre.
Incidentally, the Air Force heard about it and gave us land in Abuja so the design is for Abuja land. But because of the elections and change in government, we may have to start all over. The centre will not be for treatment but a centre of excellence for capacity building with every necessary facility.
Corporate sponsors:
I met a media consultant and we got talking. He said he has been following me and that I have done a great job but I was doing so many things wrong. I was not involving others and we needed corporate sponsorship. He said we cannot afford to pay the kind of people we need to take this to the next level, strategists. He introduced me to Dr. Omadeli Boyo, Medical Director at Pinecrest Specialist Hospitals, Lagos. I spoke with him and he was not interested so I asked him to visit our website.
The next morning, he sent me an sms, asking for us to meet. We sat down for over five hours and since then, there's been no turning back. In fact, based on that, we decided to restructure the board. We have a management structure where we have a project planning and implementation team.
A Walk for CP comes up on October 3, 2015 at 7.00am while World CP Day comes up on October 7, 2015.