By Samuel Oyadongha
Yenagoa—The  Ijaw Youth Council, IYC, worldwide yesterday hailed President Muhammadu Buhari's  decision to heed the calls from the leaders of the Niger Delta on the prompt payment of tuition fees and monthly stipend to ex-militant youths studying in foreign institutions.
I
YC's President, Udengs Eradiri, described as commendable the quick response of the current  administration to various issues of concern raised by the people of the region on the suffering of foreign students under the Amnesty programme, the delay in the appointment of a Coordinator for the Amnesty Office and the selective nature of the ongoing restructuring in the Nigerian National Petroleum Corporation, NNPC.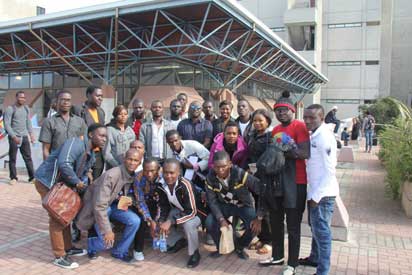 Eradiri said that the people of the Niger Delta region were beginning to build confidence in the administration of Buhari.
He, however, noted with concern that certain actions by those recently appointed including the acting Director General of the National Maritime Administration and Safety Agency, NIMASA, Haruna Juoro may destroy the emerging robust relationship between the region and the current administration.
Eradiri, who spoke to newsmen in Yenagoa, Bayelsa State on the emerging relationship and confidence in the Buhari administration, said that the acting DG of NIMASA, on assumption of office, embarked on alleged act of vendetta against the achievement of the former Director General, Patrick Akpobolokemi and the staff of the agency of South-South extraction.
He said, "He (acting NIMASA) DG has terminated almost all the programmes initiated by the former Director General without cogent reasons.  The appointment of the acting DG is now being considered a vendetta against the people of the South-South."
The Ijaw youth leader called on  Buhari to take a critical look at the actions of the acting Director-General since his assumption of office.
"He has stopped the funding and take off of the Nigerian Maritime University in Delta State and also ordered the suspension on the funding of the 2,500 Federal Government Sea fearer trainees which cut across over 20 states in Nigeria that are in foreign universities.
"Juoro has also directed that the admission into the Maritime School in Okoloba, Delta State be suspended and also stopped their programme being funded by NIMASA.  Akpobolokemi is on record as the best Director General NIMASA has ever produced. He generated so much revenue for Nigeria and created lots of jobs for the teeming youths of Nigeria.
"He also blocked the loopholes where Nigeria's revenue was being siphoned from the maritime sector."