Nigeria didn't really break a sweat blowing out lowly Guinea in Sunday's only game of AfroBasket Women 2015 in Yaounde, Cameroon.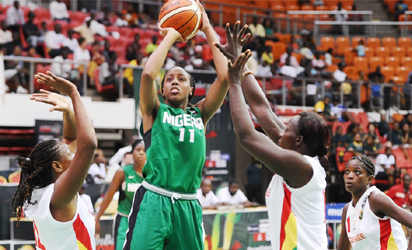 Although coach Scott Nnaji sat out team leading scorer Olayinka Sanni, Nigeria easily recorded an easy 100-47 victory.
Joyce Ekworomadu inspired five other Nigerians, who scored 12 points or more, while Nadia Peruch-Niang paced Guinea with 17 points and 7 rebounds.
Guinea  made 3 shots from beyond the arc in the second quarter, cutting the deficit to just 13 points, but it was a matter of time as Nigeria went on to close the third quarter with a 73-40 lead.
Nigeria took total control of the game, and it became more evident in the painted area where they out-rebounded Guinea 63-30.
Helen Ogunjimi came off the bench to make 15 of her game-high 19 points from beyond the arc.
Guinea arrived Yaounde with a nine-player roster, and keeping Peruch-Niang on floor for the entire first three quarters indicated the struggles they face in the competition. While Nigeria, who led the entire contest, climbed to third-place in group B with a 2-1 mark, Guinea conceded their third defeat in as many games.
Eventually Peruchi-Niang summed up Guinea aspirations in the competition: "I have told the girls not to worry about the score. Those teams Senegal and Nigeria are way too ahead of us. But we still have to get better and learn from our mistakes."