By Levinus Nwabughiogu
ABUJA – President Muhammadu Buhari Tuesday warned that the Federal Government will no longer tolerate illegal mining and other improper activities that have inhibited the growth of Nigeria's solid minerals sector.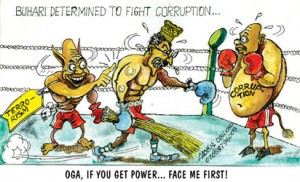 President Buhari who gave the warning after receiving a briefing from top officials of the Ministry of Mines and Steel Development led by the Permanent Secretary, Baba Umar Farouk also stated that such illegal activities have undermined employment opportunities in the country.
According to the president, the mines and steel sector was significant in the diversification of the economy project.
The president who expressed dissatisfaction with that current practice of illegal miners, stated that it had jeopardized many job opportunities.
"This is one of the most demoralizing briefs I have received. The biggest threat to this country besides the Boko Haram is unemployment and the mining sector is key to employment creation.
"We cannot be held back on such a strategic industry that can give us much needed jobs and promote economic growth.
"There must be more seriousness in running this country and we are determined to instill that seriousness,'' the President said
Subscribe for latest Videos