*Over demands to inspect Rivers State electoral materials
By Jude Opara
ABUJA—The crisis trailing the conduct of the 2015 general elections in Rivers State took a dangerous turn yesterday, with security agencies attached to the Independent National Electoral Commission, INEC, tear-gassing the candidates of the All Progressives Party, APC, in the elections who had besieged the commission to register their displeasure over what they termed the refusal of the Resident Electoral Commissioner, REC, in the state, Mrs. Gesila Khan to release the documents used for the polls.
The politicians led by the Rivers State APC governorship candidate, Mr Dakuku Peterside and Senator Magnus Abe got more than they bargained for when the police after failing to stop them from getting close to the main gate of the Commission, quickly locked the gate and immediately threw the tear-gas which left everybody within the vicinity chocking and coughing, ceaselessly.
Meanwhile, INEC's Director of Security, Shetima Ngelare explained to the gathering that there was no prior knowledge that the APC candidates from Rivers State were coming to the commission, but he received a petition submitted by the party to the commission's Chairman.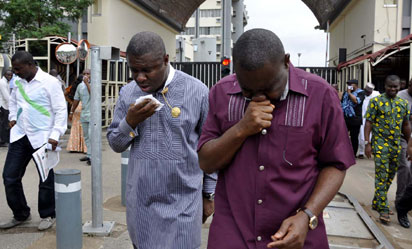 Addressing newsmen after the stand-off which lasted over two hours, Peterside said they decided to collectively visit INEC to lay their complaint after the Rivers REC, allegedly refused to give them the documents that were used in the conduct of the elections for them to present at the tribunal.
According to him, the continuous refusal by the electoral body to give them the documents was a calculated attempt to deny them the opportunity of presenting damming evidence to prove that the elections in the state were widely manipulated.
"Before our various petitions were filed, we had through our respective counsels applied to the REC Rivers State for the release of certified true copy of materials used in the conduct of the said elections to enable us prosecute our respective petitions. The law stipulated that we have 180 days within which the petition should be determined but we are being frustrated by the same INEC that caused the whole problem."
The politicians comprising senatorial candidates, House of Representatives candidates as well as state Assembly candidates arrived the headquarters of INEC at 11.15 a.m., and the security operatives comprising the police and Department of State Services, DSS, stopped them at the barricade just before the main entrance.
Senator Abe told the securitymen that they were at the commission to register their displeasure to the acting INEC Chairman, Mrs. Amina Zakari over the alleged refusal of the Rivers State REC Khan, to give them documents used in the conduct of the polls won by the candidates of the Peoples Democratic Party, PDP.
Subscribe for latest Videos