•The mystery, fame, fiction
By Vincent Ujumadu
THE SLEEPY community of Okija in Ihiala Local Government Area of Anambra State came into limelight in August, 2004, when the media, both print and electronic, became awash with gory stories of goings-on inside Ogwugwu Akpu, one of the shrines in the area.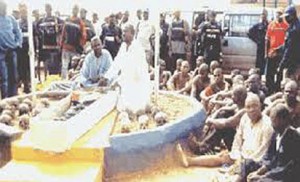 Before then, Ogwugwu Akpu was just like any other shrines in Igbo land which served as checks against impunity and man's inhumanity to man.
For instance, people who were aggrieved over the manner they were treated in business deals, land disputes, among other issues, took solace in Ogwugwu shrine, which they believed, was capable of delivering justice in favour of the down-trodden.
The existence of Ogwugwu Akpu and others like Ogwugwu Isiula, Ogwugwu Mmili, among others, never affected the spread of Christianity, as Okija, which had produced over 30 Catholic and Anglican priests with about 10 parishes and three archdeaconries, and hosts the country's first private faith-based university, the Madonna University, is one of the fastest developing communities in Anambra State.
It remained so until the emergence of the present democratic dispensation when politicians began to patronize the shrine during which the so-called political godfathers dragged political office seekers to the shrine to swear oath of allegiance to them if elected into the aspired offices.
South East Voice gathered that in the beginning, the priests of the shrine were very old people who occupied the position because the lot fell on them. They were also not demanding money before administering the oaths, although the visitors could show appreciation if they wished.
Indeed, it was the visit of former Anambra governor, Dr. Chris Ngige  to Okija shrine to swear an oath that brought the shrine into popularity. Caged by his political godfathers, Dr. Ngige was reportedly dragged to Okija shrine to swear an oath of allegiance to his polical godfathers to keep his side of agreement to them on winning the election.
Looking back, Ngige in an interview, told a national daily that, "I was a foundation member of the PDP, I was nominated to be a minister by Dr. Alex Ekwueme, but Obasanjo refused because they fought a bitter primary in Jos and I was in Ekwueme's camp. So I was blacklisted. I was the Assistant National Secretary of the party before I came back to contest the primaries for Senate in 2002/2003.
"Then, I was begged by Chief Audu Ogbeh and others in the National Working Committee, NWC. Even the Ubas came to beg me as a last resort. Before then, members of Better Anambra Movement led by Ben Akabueze, Ben Okoye and Ausbeth Ajagu from Lagos had screened people and rated me first from their interview and CV evaluation.
That they were my benefactors was because it was when they were begging me that I caved in to run. I gave conditions for going to run and the major condition was that I should be able to run the place unfettered and give good governance to my people in Anambra State.
"They were the people, who breached the agreement by asking me to sign money for them; by asking me to allow them to appoint all the commissioners, special assistants, aide de camp, chief security officer and personal assistants. We had no such agreement. They breached that agreement, so I said, 'okay, if you breach the agreement, then there is no agreement any more.'
"On the way, they noticed some resentment from me that showed that I was no longer happy with the journey. They said they needed loyalty. So, one of them suggested it (Okija) and they now formed themselves into a cabal.
One night they said: "If you don't go with us to Okija Shrine, we will shoot (you). It's only a living general that can tell the history of a war. If I was shot dead, the story could have been distorted. I have to be alive to be telling you this story.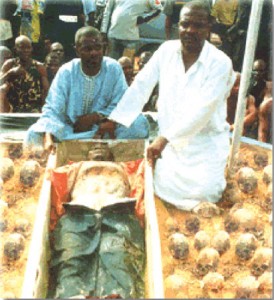 "I asked them: "What should I do?" They said: "Let us go to Okija Shrine and I said, 'okay, let's go.'" I took my Bible with me and followed them. When we got there, I noticed they did not have guns; then I said I was not going in.
One of them said he could swear for me, I said, 'go ahead,' so he did it for me. But I did not believe in what they were doing because I am a staunch Catholic.
I am a knight of the Catholic Church; so I never listened to what they were saying. They were just fooling themselves."
The Okija incident was one of the issues that Ngige battled as a governor, eventually leading to his ouster. Besides, Dr. Ngige, other politicians also visited the shrine where they swore oaths of allegiance.
According to a native of Ubahuezike, one of the 30  villages in Okija, where the shrine is located, it was common to see Coaster buses filled with politicians driving into the area at the dead of night to swear oaths.
There was the story that those who were taken to the shrine for the oath–taking ceremony were not told their mission until they saw themselves at the shrine, at which time it was virtually impossible for them to back out.
As this happened, most natives of other 29 villages in the town were not aware of the happenings at Ogwugwu shrine such that it was indeed a strange story to them when the media started reporting developments in the shrine.
As time went on, many young men from Ubahuezike village who were naturally Ogwugwu priests by virtue of their place of birth, decided to exploit it, and turned it into business–making venture.
These young men, most of who were trading in Lagos and other cities, but were finding life difficult, returned home and modernized the operations of Ogwugwu deity. They were to be joined later by some educated people in the area who introduced reforms into the Ogwugwu shrine.
It was these youths that introduced a register of those that patronize Ogwugwu shrine and thereafter, began to charge money from those who patronize the shrine. Later, they introduced a system whereby Ogwugwu agents could travel to any part of the country to deliver summons to those sued at Ogwugwu shrine, and such people were given a date to appear before the shrine in person or be prepared for the dire consequences.
As the Ogwugwu became more popular, the young priests engaged the services of commercial motorcycle operators, who served as their agents.
The Okada riders, who normally use the famous Okija junction as their base, would readily volunteer to take anybody visiting the shrine to his preferred client and by the time they would have completed the about 15 minutes ride, he (the Okada rider) would have convinced the visitor on the most powerful priest to visit.
That was why the commercial motorcycle operators would do anything possible to ensure that they were the ones to carry first time visitors to a priest of Ogwugwu shrine as he is also assured of a commission from the amount paid by the visitor.
It was not clear at what point the operators of the shrine began to demand for the corpses of those allegedly killed by Ogwugwu, but it became a common knowledge that once somebody suspected to have been killed by Ogwugwu was buried in his compound, the priests of the deity would go to demand for the corpse the same day it was buried and the body would be exhumed and taken to the Ogwugwu forest and kept for ever.
The frightening sight is usually shown to those, who appear before the deity after they were summoned and this further instils more fear on such people, with the result that they would do the bidding of the priests to stay alive.
With the soaring popularity of Ogwugwu Akpu, the young men, who became full time priests suddenly had their lifestyles changed as they began to acquire expensive cars and started building mansions in the area.
Then, the bubble burst as infighting began among them, leading to the people exposing one another on the level of their involvement in what was beginning to dawn on outsiders that it was indeed 'business' and nothing more.
In August 2004, a petition was written to the then Inspector General of Police, Mr. Tafa Balogun over the happenings at Okija and the IGP ordered the then state police commissioner, Mr. Felix Ogbaudu, to investigate.
The disagreement among the operators later led to the arrest of two chief priests and 30 other persons suspected to be agents of Ogwugwu shrine by the police, who were taken to Abuja for questioning.
The police also found 10 registers containing names of prominent politicians, businessmen, apprentices, among others, from most parts of Igbo land and beyond, though the identities of those whose names were in the register had not been made public till date
One of the current chief priests of Ogwugwu said that it was the media that blew the happenings at the deity out of proportion. He said: "This deity is not associated with killing people, rituals or any form of death. Instead, the shrine's main objective is to settle differences amicably and, should such move fail to resolve the crisis, the ultimate punishment is meted.
"The shrine seeks to create solution to problems, especially for people who have been cheated in one way or the other. For instance, if someone is owing you and refuses to pay, or your land or property is forcefully taken from you, you can come to the shrine and state your case and the shrine will help in getting a settlement for you peacefully if the other party obeys our summons."
According to him, even white men visit the shrine to summon their Nigerian business partners who they claim, cheated them in business.
After the police raid of the shrine in 2004, it was as if the popularity of the shrine had waned, although recent happenings indicate that some people still believe in it, especially non-indigenes of Okija.
For instance, it was reported recently that a Reverend Father, Wence Madu, who is the Rector of the Imo State Polytechnic, was summoned to the Ogwugwu shrine. According to the report, the cleric received an invitation asking him to undo an alleged injustice he was accused of committing or appear at the shrine to prove his innocence.
Similarly, a female federal civil servant complained recently that her husband's brothers summoned him to Okija shrine over their late father's landed property. However, being a highly religious person, she discouraged her husband from going to Okija as that would mean exposing him to danger.
Also, a  28-year-old motor mechanic in Nnewi, Mr. Ifeanyi Ujah, was  recently summoned to Ogwugwu for merely being a go-between in a car purchasing deal. He, however, reported the matter to his priest who, after prayers, urged him to ignore the summons.
As at today, Okija shrine has lost the glory it acquired through politicians who patronised it in the past. A source told South East Voice: "Those days are gone. The politicians do not come any more. It was the Ngige issue that caused the commotion of the past and the media hyped it."