By Gabriel Ewepu
The Permanent Secretary, Federal Ministry of Agriculture and Rural Development, Arc. Sonny Echono, has disclosed that the nation's annual import bill on tomato has increased to N16 billion.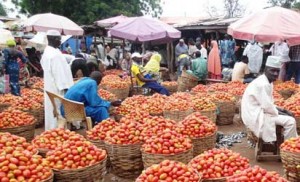 Echono made this known in his welcome remarks at an international workshop on 'Development and Application of Postharvest Handling Model for Horticulture Crops', organised under the auspices of the Korea-Africa Food and Agriculture Cooperation Initiative, KAFACI, and jointly hosted by the Federal Ministry of Agriculture and Rural Development and Rural Development Administration of Republic of Korea in Abuja.
He acknowledged the huge post-harvest losses recorded by farmers in most African countries as a result of poor handling of horticultural products.
He said: "The absence of Good Agriculture Practice (GAP) and poor postharvest handling has militated against acceptance of agricultural products from Africa and other developing countries.
Quoting Central Bank of Nigeria and Bureau of Statistics reports, Echono said "Postharvest losses have been estimated to range between five percent and 20 percent for grains, 20 percent for fish and as high 50-60 percent for tubers, fruits and vegetables .
"Horticultural crops because of their delicate nature, face tremendous post-harvest challenges. In Nigeria, specifically, tomatoes has the highest priorities with domestic demand of 2.3 million tonnes of fresh product annually, national production of 1.8 million tonnes, wastage of over 750, 000 tonnes and import bill of N16 billion to make up for the shortfall in local production.
"Citrus has national production of 3.48 million tonnes, contributing about 29. 71 percent of the world's production and 81.93 percent of Africa's total output.
He added "However, 1.53 million tonnes of citrus produced are lost annually as waste while an annual import of 7, 851 tonnes (concentrates and related products) valued at over N717 million has been recorded. The horticulture sub-sector is undoubtedly faced with problem of processing and post-harvest handling."
The Permanent Secretary also maintained that the government in Nigeria partnering the private sector has been tackling the challenge of postharvest losses in the agricultural sector as efforts had been made in establishing facilities that would curtail the menace.
He also expressed optimism that the workshop attended by scholars, resource persons, Korean delegates, participants from the 15 member countries of KAFACI will create synergy in research development and methods to address post-harvest losses and increase productivity in the sector.
However, making his remarks, the Korean Ambassador to Nigeria, Noh Kyu-duk, said his country would continue to assist African countries in various sectors, including agriculture.
"Today's symposium aims to provide a platform for us to share information on the horticultural status of the KAFACI member countries and make progress for KAFACI horticulture projects.
"The horticulture industry in Africa has great potentials to become an important development engine, helping increase African farmers' income level," he said.
Meanwhile, the Korean envoy also stated that his country was keen to reduce postharvest loss of 40 percent in Nigeria's horticultural sector to at least 10 percent, and adding that with the technology used in preserving horticultural products in his country they will assist Nigeria with it.
"We have technology to preserve horticultural products after harvest. The postharvest loss rate in Nigeria is 40 percent and that is too much. We want to bring it down to 10 percent. Through this seminar we can introduce this kind of technology and all the experts from Seoul are here in Nigeria for a three day meeting to share this kind of experience," he added.