By Levinus Nwabughiogu
ABUJA – President Mohammadu Buhari has said that Nigeria is erroneously being regarded as a rich country, stating that indices and parameters of evaluating a rich country such as economic advancement, improved social services were lacking.
He however enjoined the Nigerian elites to be prepared to make sacrifice to rescue the country.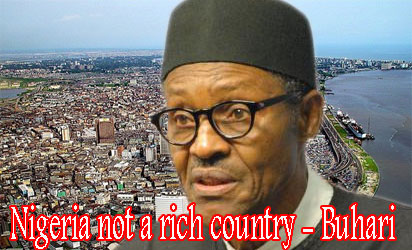 The president spoke when he received the outgoing President of the African Development Bank (AfDB) Dr. Donald Kaberuka and other officials of the bank.
According to him, the privileged and influential citizens clearly have to do more now than in the past to help the country deal successfully with its economic and security problems.
President Buhari also Kaberuka that his administration will welcome more support from the AfDB for projects in versatile sectors like agriculture that can easily be explored to create more jobs for unemployed Nigerians.
He said: "With the shock of falling oil prices, lack of revenues, and insecurity, the Nigerian elites must now wake up and provide the right guidance in their communities, and also lead the economy on the right path more than they used to do".