BY TONY UBANI
Sunday Oliseh sounded the traditional trade closing gong of the Nigeria Stock Exchange yesterday and that bell also signified his commencement of job as Super Eagles coach, taking over the reins from Stephen Okechukwu Keshi.
And moments after, he also released the list of 18 players who will do battle with Tanzania's Taifa Stars in the Nations Cup qualifier in Dar es Salam. A lot of firsts were recorded in his first official function on a Super Monday but he did not lose track of the bobby traps that could undermine his job in the Eagles.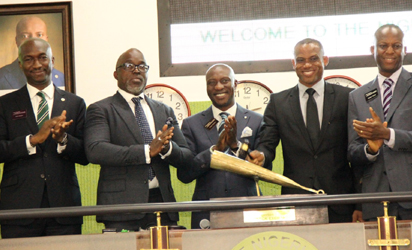 ''I'll not sell players or manage players as coach of the Super Eagles'', he said bluntly to a question.
Selling players while am still coach of the Eagles is like selling my country. Why should I do that? Agents or Managers get 7% or at most 10% of what players are paid. That is like getting $7,000 from a player. It is like selling my country. But I know that if we play well and perhaps get to win or even get to the semi-final of the World Cup, I will make more money than that.
If I visit Lagos State Government for instance after such a feat, he won't give me $7,000. I won't even engage in any deal with any player in the national team. Such dirty things destroy everything you have in a team. I need money like any other person.
I need money for my family, I need money to pay school fees. I need genuine money. Selling players is useless. Let me also clarify that my brother is not an agent. He owns a football club and he is a lawyer. He is my lawyer. I want to succeed and I want to do the right things to succeed''.
Asked if he would resign if he fails to qualify for the Nations Cup, Chan, or World Cup, he said that the question does not arise as he was starting from a scratch. ''We've potentials in Nigeria but they're not branded yet. In one year, Nigeria used 62 players. It shows that there are no regulars in the team. We need to start this journey together and build a team that we all will be proud of'', he noted.
Subscribe for latest Videos