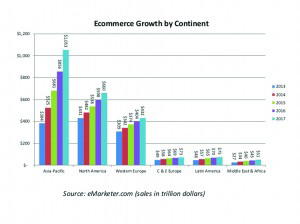 By Jonah Nwokpoku
Nigeria's Information and Communications Technology, ICT sector contributes about 8.4 per cent to the gross domestic product, GDP. This sector in turn contributes significantly in driving the trade sector which has grown to about 16.4 per cent according to the 2014 data from the Nigerian Bureau of Statistics.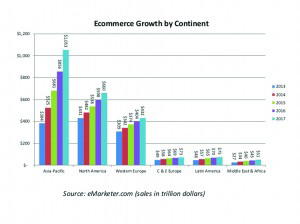 The use of ICT to drive trade has received significant boost with the emergence of electronic commerce. The e-commerce sector has been growing strongly over the past three years and it is expected to contribute about 10 per cent, valued at N2.5 trillion to the GDP by 2018.
This growth has been driven by pockets of internet entrepreneurs who ventured into the retail sector, leveraging the advantages offered by technology. This experimentation with online shopping has driven economic growth to unprecedented level for the past three years, creating enormous wealth and leading employment generation in the technology sector.
However, the most recent trend in the sector, which has been seen to be driving this growth, is the evolution of the online marketplace.
Online marketplace is a type of e-commerce site where product or service information is provided by multiple third parties, whereas transactions are processed by the marketplace operator. It is the primary type of multichannel e-commerce.
In an online marketplace, consumer transactions are processed by the marketplace operator and then delivered and fulfilled by the participating retailers or wholesalers.
In Nigeria, one of the e-commerce pioneers, Konga.com has led the way in the online marketplace evolution.
Started as vendor specific online retail store in 2013, the retailer launched its marketplace HQ in April, 2014 opening up its store for third party merchants across the country.
Konga's Director of Marketplace Operations, Kunle Oguneye told Vanguard that over 25,000 merchants presently trades from the platform. He said over 800, 000 orders have been processed from the platform since launch, with orders from the marketplace accounting for about 50 per cent of all orders made on the Konga online store.
He said the marketplace have been driven by the natural desire by merchants to explore more market opportunities to reach more customers who demand for their goods, a need that the Konga marketplace has perfectly met.
According to him, "People want to sell. People want to make money. So everybody who is selling wants to sell more. So we did come with a very simple proposition, that we can help them to sell more.We ship to all the 36 states every day and the FCT. So somebody who is based in Yaba or Tejusoho market, all of a sudden starts getting orders from Akure, Kogi or from Nasarawa and he does not have to bother about how to deliver to these places because Konga already made the logistics provision to make that possible. They may also decide to use other logistics option if they choose but then we are always there to make the entire process as seamless as possible."
To sell on the platform, he said, a merchant must have inventory, that is, products to sell.
He said: "Wherever you keep the products, whether under your bed, or shop or inside your car trunk, we are not concerned about that. But it must not be a situation where you get the order and then you start looking for the item. And then for certain types of products, you have to show us proof of purchase. This is to ensure that we do not sell fake products on the platform. This specifically has to do with branded products where people may get the fake version from a third party manufacturer but still present it as the original brand. So we checkmate that because we do not want someone coming to buy a branded product and getting a fake. So for those kinds of products, the seller has to present proof of purchase, pictures of samples, and then we take a decision as to whether it is authentic or not."
He disclosed that over 100 sellers are admitted daily to sell on the platform and they are verified to start selling within 24 hours.
One of the sellers on the platform, Blessing Olurin, whose shop, Little Angels debuted on the platform on May, 2014 told Vanguard she processes about ten orders a day, through the platform and grosses about N1 million every month.
Inspired by the high cost of brick and mortar shop to explore the online alternative, Mrs Olurin said the visibility that the marketplace provides is the most significant advantage that selling online offers, including the logistics solution provided by Konga.
Another seller, Chukwu Onwuka whose information technology store, Systematics, has been selling on Konga for ten months said its presence on the marketplace has driven sales up by 30 per cent.
He said, Systematics which also operates as brick and mortar in several locations across Lagos city, processes, on the average, six to seven orders and grosses about N500, 000 monthly in its online sales.
Also speaking, Tokunbo Kalejaiye who sells electrical gadgets on the Konga marketplace said Konga's local content posture has been a major attraction for so many businesses selling on the platform.
He has been selling on Konga for eleven months and processes about eight to ten orders a day averaging between N50, 000 to N80, 000 daily on sales.
Kalejaiye who believes that what Konga marketplace offers heralds huge potential for e-commerce in Nigeria, said entrepreneurs should embrace the opportunity as they do not have to face the rigours of getting brick and mortar shops with its attendant limitations.
Challenges
But, Konga marketplace, he said, still needs to improve upon its distribution system especially as it regards delivery.
He said: "The efficiency of the delivery is what that will make them succeed in the business. And if they don't develop that arm very well, all the efforts they have put in place to ensure free flow of services might be jeopardised. This would happen because quite a number of customers have different reasons for buying and then if the delivery system is not persuasive or committed to the business, you will end up having a lot of returned orders."
He also wants Konga to explore other payment options besides the popular pay on delivery.
According to him, "The payment system does not have to be pay on delivery always. Konga should encourage a lot of customers to pay online. The seven day return policy that customers have is already enough of an encouragement. This cash on delivery encourages a lot of unserious buyers to come to the platform. People just place orders today and the next day, they have cancelled the order saying they don't like the product again. Those are some of the difficulties that we face."
The Director of the Marketplace, Mr.Oguneye also believes challenges remain, especially around public infrastructure, and also as it relates to fraud and other safety concerns in logistics services.
He said: "Infrastructure remains a big challenge. This is because at the end of the day, you are trying to deliver but your trucks cannot go out at night because of fear of insecurity and bad roads. You are also dealing with all sorts of societal challenges, a lot of predisposition to fraud. So we are constantly chasing people who are trying to use our platform to perpetrate fraud. Educating Nigerians about e-commerce is also a challenge because it takes most sellers that come into our platform, two to four weeks to actually become comfortable understanding how to interact with a customer and how to offer additional services. But then all that remains part of the growing process for all the parties concerned."