Emma Ujah, Abuja Bureau Chief
The decision of the Central Bank of Nigeria, CBN, to stop importers of certain  items, 41 in number, from accessing the foreign exchange market was a declaration of  war for the soul of the Naira between the apex bank and money launderers who have almost grounded the economy.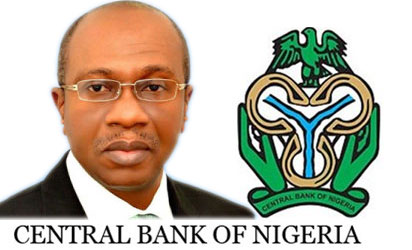 The affected items are rice, cement, clothes, textiles, toothpick, poultry products,  eggs, turkey,  meat and processed meat, margarine, palm kernel/palm oil and vegetable oils, private airplanes/jets, canned fish, incense and wooden doors. Others include soaps and cosmetics, tomato/tomato paste, woven fabrics, table ware, kitchen utensils, furniture, plywood boards and panels, wood particle boards and panels, and glassware. Also on the list are cold  rolled steel sheets, galvanised steel sheets, wire mesh, steel nails  ,  roofing sheets, wheelbarrows, head pans, enamelware, steel drums, steel pipes, security   and razor wire, tiles-vitrified and ceramic,  plastic and rubber products, and polypropylene granules.
In an emotion-laden voice, the Governor of the CBN, Mr. Godwin Emefiele, said it was it a shame for Nigeria to be wasting her scarce foreign exchange on the importation of commodities that she had a comparative advantage in the production.
His words, "At some point, we have to all decide what we really want for our country, and I believe that the time is right for that deep and honest conversation".
He added that CBN's analysis of the nation's economic  situation "compelled us to believe that we needed to aggressively begin the process of feeding ourselves by ourselves and producing much of what we need in this country".
Emefile went on: "Most of you are aware of the often-quoted number of N1.3 trillion which is what we spend, on average, importing rice, fish, sugar, and wheat every year.
"I am saying it is shameful that we have to import toothpick.   I am saying that it is shameful for us to import fish in sauce canned fish in sauce and sardine.   I am saying it is shameful; before I was born, palm kernel was taken out of Nigeria and taken to another country and, today, we go to that country and import palm oil. It is shameful.
"It is shameful that items that we used to produce in this country we now begin to import them.   It is shameful and we need to stop them.   That is what we are saying.
"Only last week, I met the Governor of Kebbi State and he lamented the unfortunate situation in that state where people, our own farmers, have committed themselves to producing rice and have produced paddy and we have paddy glut in Kebbi today.
"As I speak with you, the government has spent its own money buying paddy from the rice farmers, almost 200,000 tons of paddy rice.
"Aside from that, Kebbi farmers have un-purchased paddy rice close to 800, 000 tons. And yet we patronize imported rice. And the rice imported to the country is one that has spent at least seven years in their stores and yet we have rice that is produced today in Nigeria   and we are running away from it.
"The only way we can encourage people producing rice to go back to the farms is to do what we have done."
The CBN boss then asked rhetorically? "How can we keep complaining about the depreciation of the Naira when all we do as a people is to import everything from ordinary Geisha and toothpicks, to even eggs?"
The Director, Monetary Policy, CBN, Mr Moses Tule, also clarified that the restrictions had become necessary since Nigeria is not earning enough foreign exchange and that it would be foolhardy to continue to make the forex available for everyone including those who only want to waste on the importation of commodities that are not necessary, just because they want to satisfy their ego of using imported goods.
The director revealed that, in the first five months of this year, $575 million was spent on the importation of wheat, $ 374 million on fish.
"It would be wrong to continue with a policy that will keep impoverishing our farmers, local industries and growth of our economy," Tule said.
"All we are saying is that the CBN does not have enough foreign exchange to service importers of goods that can be locally manufactured.
"Nigeria is a member of the World Trade Organisation (WTO) and we signed a treaty to it. The policy is aimed at building our local industries, creating jobs, reducing the pressure and demand for foreign exchange."
Shortly after the decision banning the items was announced in the last week of June, some persons apparently involved in the importation and other criminally minded elements were said to have gone to work, and mopped-up all the foreign currencies they could find in the parallel market and headed for the borders. Others headed for the banks to deposit whatever they had bought off from the market.
Attacks on the Naira
The CBN was clear in identifying what has been happening at the foreign exchange market as  attacks on the Naira. With the continuous increase in the demand for the dollar at a time when the price of the nation's main foreign exchange earner, crude oil, had  nose-dived could only point to a direction-crash in the value of the Naira against major foreign currencies.
Attacks against the Naira come from three main sources: Speculators, those who literally steal the nation's commonwealth and stash their loot abroad and those who import items that the nation does not need, just because of the penchant for foreign goods.
At a point in the nation's recent history, every week following the Federation Account Allocation Committee, FAAC, meeting (where federation revenue is usually shared among the three tiers of government) used to be a week of mopping-up of foreign currencies, especially at the parallel market.
Government officials, especially at the state level, usually change the Naira allocated to their states and take the money abroad. There have been several cases of governors (especially, those now former), or their family members being caught at the airport or abroad carrying huge amounts of money in foreign currencies (in cash).   There are several on-going cases either in the courts or still with the Economic and Financial Crimes Commission, to this effect.   It is no secret.
There was case of one of a former governor in a North-Central state who was reportedly caught with such laundered money and pretended that he wanted to use it to buy motorcycles for his state.   Indeed he brought back hundreds of motorcycles which were allowed to rot away at the Government House.  Unfortunately for that state, his successor did worse and when he was caught, at a point, he told eagle-eyed security officials he wanted to import pigs.   Indeed he imported those pigs as if pigs were the priority of the state.  And the people of the state could only ask, why pigs?
Stories of governors and other politicians and members of their families who go abroad to celebrate birthdays or other types of parties are not strange. At such occasions, several aircraft are chartered and the waste of our commonwealth can only be imagined.
Dollarisation of the economy
Dollarisation of the economy is another major concern for the apex bank. Politicians, top civil servants and many other Nigerian elite who don't export any commodity, whatsoever, are known to have made transacting businesses in foreign currencies, especially the dollar, a matter of status symbol.   The problem assumed notoriety in the last 16 years of the civil administration.
At a point, some private schools, departmental stores and even landlords made it mandatory for payments for services to be done in the dollar, thereby rubbishing the Naira.   Spraying of the dollar  even found its way into the "Owambe" parties in some parts of the country.   Right in the rural areas, the display of the dollar, at a point, became the proof of wealth among "those who have made it". Several threats from past and present Governors of the CBN fell on deaf ears.
Between January and March this year, in the days preceding the general elections, there were reports of high-level politicians who were moving about dishing out dollars to interest groups while soliciting for votes.   Investigations showed that all major political parties were involved.
In the midst of all the attacks on the Naira, the CBN was forced to take some of the current positions but those who have held the nation hostage are kicking.
Upon realizing that the CBN was trying to block them from accessing the foreign exchange market, unscrupulous "businessmen" resorted to carting away all they could through the border.
The apex bank, on July 5, noted that huge foreign exchange was being smuggled out through the  borders and threatened to deal with anyone caught in the act.
It, in fact, issued a statement warning that those caught would face dire consequences.
The statement said: "The Central Bank of Nigeria (CBN) notes with concern the increasing trafficking of huge sums of foreign currency across our borders. This practice is in defiance of the extant dictates of Section 2 (subsection 3-5)  of the Money Laundering (Prohibition) Act 2011 (as amended) which categorically states that:
"Transportation of cash or negotiable instruments in excess of US$10,000.00 or its equivalent by individuals in or out of the country shall be declared to the Nigerian Customs Service." (subsection 3)
"Any person who falsely declares or fails to make a declaration to the Nigerian Customs Service pursuant to section 12 of the Foreign Exchange (Monitoring and Miscellaneous Provisions) Act, F34, LFN, 2004 is guilty of an offence and shall be liable on conviction to forfeit the undeclared funds or negotiable instrument or to imprisonments to term of not less than 2 years or to both," (subsection 5).
"For the avoidance of doubt, the general public is hereby notified that the CBN (in collaboration with other relevant regulatory and security agencies) will promptly apply appropriate sanctions and penalties for contravention of the provisions of this Act,".
Nigeria as centre of illicit financial flows
Following the Global Financial Integrity Group's report, which identified Nigeria as one of the 10 countries with highest global illicit financial flows, the CBN was again on its feet to explore ways to address the problem.
The report  said that about $129bn  of Nigeria's wealth had been shipped abroad through  money laundering and tax evasion in the last ten years.
The capital outflows stemmed from crime, corruption, tax evasion, and other illicit activities. According to the report, it found that, from 2001 to 2010, developing countries lost US$5.86 trillion to illicit outflows.
Earlier in the year, the report of the Thabo Mbeki High Level Panel on Illicit Financial Flows from Africa, adopted by African Union Heads of State and Government, at their summit in Addis Ababa, Ethiopia, said about $40.9billion (about N6.87trillion) of an estimated $60billion (about N10.08trillion) had been lost through such transfers from Africa are traced to Nigeria.
Faced with the latest report and that of the Mbeki Report, which also nailed Nigeria as country where men and women in positions of privileges impoverish their fellow citizens, by stealing and taking abroad, the commonwealth, the CBN, with the encouragement of the Buhari government I decided to act to save the situation.
The first step the apex bank took was to block Nigerian businesses and individuals that have been stealing the nation's wealth and stashing same abroad.
The second group are those who use Nigeria as a route for money laundering.
In the third category are public officers and their private sector collaborators who literally steal funds from Nigeria, go to the parallel foreign exchange market and buy foreign currencies at whatever price and deposit them in their domiciliary accounts.
After some time, they wire the money abroad under various guises. They could pretend to be paying  for fictitious imports or school fees of ghost students abroad.   The nation would be shocked if the Buhari administration could undertake an audit of Nigerians who own houses they don't need  abroad and don't earn any income.   Some groups of Nigerians and expatriates have been advertising and luring Nigerians to take buy houses in Dubai, the US and in various European countries.   All these provide avenues for stealing the nation's foreign exchange.
Another category involves those into drugs and other illegal trades, using Nigeria as transit a  nation, rather than destination.
Penultimate Saturday, CBN issued a statement in which it said it would no longer allow Nigeria to be a centre for illicit financial flow and therefore announced measures aimed at checking the activities of money launderers.
In the statement by the Director, Corporate Communications, Mr.  Ibrahim Mu'azu, the CBN said it would increase its surveillance to halt activities of those who launder funds from and through Nigeria.
The statement read in part, "The Central Bank of Nigeria (CBN) notes with concern a recent report by the Global Financial Integrity group, which ranks Nigeria as one of the 10 largest countries for illicit financial flows in the world. Although we do not have an independent confirmation of this assertion, the report estimates that about US$15.7 billion of illicit funds go through our system annually.
"In the light of this avoidably negative commentary, we wish to draw the public's attention to several protocols on illicit fund flows, money laundering, and terrorism financing both in Nigeria and around the world, and warn that the CBN will increase its vigilance to ensure that Nigerian banks are not used as conduits for illicit fund flows, especially in foreign
currencies.
"We note and applaud that in line with global best practice, Nigerian banks have started to curtail the acceptance of foreign currency cash deposits, much the same way as customers in other countries cannot just walk into banks and make foreign currency cash deposits without proper documentation.
"We wish to assure all citizens seeking foreign currencies
for legitimate personal and/or business interests that there remains ample opportunity to do so within the law. The CBN's Foreign Exchange Rules have many windows for accessing foreign exchange for legitimate business as well as for personal commitments including payment of medical bills, school fees, mortgages, demand notes and other bills.
"Also, Bureaux de Change (BDC) services to small – scale users   remain valid as long as   this is to meet   genuine needs, and BDCs' documentations to the CBN include the customer's Bank Verification Number (BVN)".
Banning dollar deposit
At a point, the cash foreign currency deposits in the domiciliary accounts of Nigerians were so much that it became a problem to the banks.
Legitimate questions were: how did those domiciliary account holders come about the foreign currency notes when they are not exporters? The answer could either be that they are speculators, hiding the products of corruption or simply money launderers.
For banks, it was a frustrating situation which forced them to stop foreign currency deposits, last week. It was clear for the banks that they were rendering services for which they hadn't much or any benefit.   Banks serve as catalysts for financial services in which they traditionally collect deposits and lend same to those interested in obtaining loans.   Their main profits are supposed to come from interests charged on loans.   But they cannot give out loans in foreign currencies.
Sensing that trouble was on the way, those behind the unwholesome attacks on the nation's economy rose to challenge the banks and the CBN for that decision. In fact, the opposition Peoples' Democratic Party, PDP,   accused the administration of President Muhammadu Buhari of implementing an archaic and communist agenda.
The party said, "The Peoples Democratic Party (PDP) wishes to bring to the notice of President Muhammadu Buhari that the apparent absence of an economic team in the third month of his administration is leading the country into economic quagmire and doldrums.
"In the past, we had given examples of the devastating effect of lack of an economic team and a clear-cut fiscal policy by this administration as evidenced in the lull and painful decline in the stock market, spiral rate of inflation, the disastrous outing of the government team in bilateral talks during the recent visit to the United States of America and the shambolic state of our economy at present.
"This confusion has been extended to operations and regulations of the foreign exchange transactions in Nigeria wherein the government is making it impossible for honest Nigerians to engage in free trade and regulate their personal activities as guaranteed by the constitution, and this is clearly an agenda to illegally impose a communist economic regime on Nigerians.
"The most disturbing aspect of this communist economic agenda is the illegal and unlawful attempt to repeal the provisions of the Foreign Exchange Monitoring And Miscellaneous Provisions Act, otherwise known as Decree No 17 of 1995 and replace it with unilateral imposition of new regulations.
"This Act remains the subsisting law regulating the operations of domiciliary accounts in Nigeria and by its provisions therefore, Nigerians are empowered to freely open and operate domiciliary accounts.
"As such, any enactment and or regulation inconsistent with the provisions of this Act are deemed void. Thus, the recent foreign exchange transaction restrictions by this government are illegal, unlawful and void. Besides the provisions of the law, the PDP declares this administration's archaic communist economic agenda as unworkable and unsustainable."
Some self-styled financial experts claimed the policy would hurt the nation's economy as it would shoot up inflation.   Some claimed that prices of imported goods would not only rise but that the entire economy would be hurt.   What critics of the development failed to tell Nigerians was that the steps were indeed taken to curb the insatiable appetite for imported goods among many Nigerians.
CBN's initial reaction was that it supported the banks but that it was out of their own operational decision and not a directive of the apex bank.
However, by Wednesday night, the CBN issued an official statement making it mandatory for banks to comply with the rejection of foreign notes as deposits.
The apex bank gave an official backing to an decision of deposit money banks in the country not to accept further cash deposits of foreign currencies.
"The CBN considers the statement by banks concerning the large volume of foreign currencies in their vaults and their decision to stop accepting foreign currency cash deposits into customers' domiciliary accounts as a welcome development.
"Therefore, in its continued effort to stop illicit financial flows in the Nigerian banking system which aligns with the anti-money laundering stance of the Federal Government, the CBN prohibits, from the date of this circular, the acceptance of foreign currency cash deposits by banks," it said.
Legitimate transactions
The CBN insisted it would continue to support the Federal Government's fight against money laundering, corruption, and terrorism financing and will block  every avenue that may be used for these purposes.
"We will also ensure that persons who venture into currency speculation and currency substitution find it unattractive and dangerous. In these efforts, therefore, we seek the continued cooperation of all Nigerians to make this work for the enhancement of our shared progress, rather than the prosperity of a greedy few amongst us," it said.
The apex bank, however, assured that people engaged in genuine businesses requiring transfer of funds abroad have no problems. It clarified that it was absolutely unnecessary for Nigerians to maintain dom accounts before they could transact businesses requiring payments abroad.
According to him, all that an individual needed was to ensure that he or she funds the Naira account locally and when the person needs to travel, he go with his electronic payment card and make withdrawals when in the country of destination.
All that the CBN and global financial regulators want, it said, was to enable financial flows to be tracked thereby making illicit financial flows difficult for criminals.