*Decries level of debt in aviation sector
By Levinus Nwabughiogu
ABUJA – President Muhammadu Buhari ,Wednesday, in Abuja directed the Ministry of Aviation to contemplate plans of evolving a national carrier for Nigeria.
The president also expressed concern over the enormous debt profile of Nigeria's aviation sector, saying that his administration will act quickly to redress the situation.
He further directed that counterpart funding for the upgrading of the international airports in Lagos, Abuja, Kano, Port Harcourt and Enugu, should be captured in the 2016 budget.
He spoke after receiving a briefing from officials of the Aviation Ministry, led by the Permanent Secretary, Binta Bello.
''I am concerned about the enormous debt profile in the aviation sector. The Federal Government has to do something quickly because safety, security and international respectability are involved here.
"Our airports are the windows through which people see our country. Anybody coming into the country will likely come through the airports.
"If we cannot secure and maintain our infrastructure, it will reflect very badly on us,'' he said.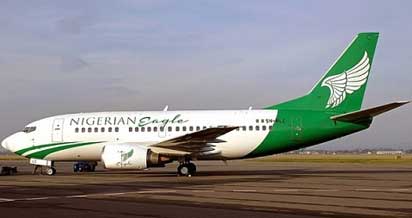 The President directed the Ministry of Aviation to speed up all processes and projects relating to the safety and security of Nigeria's air transport system.
Speaking earlier, Permanent Secretary of the Ministry, Mrs. Bello told the President that the five new International Airport Terminal Buildings were designed to meet the best international standards.
According to her, the four international terminals would be completely by the fourth quarter of 2016.
She stated that they have the capacity of taking care of 62 million passengers annually.
Specifically, Lagos will move from 7 million passengers' capacity to 25 million, Abuja moving from 5 million to 16 million, while Kano, Port Harcourt and Enugu, will have the capacity for 7 million passengers each.
Speaking further to Journalists in the State House, she said "The President is quite concern about lack of national carrier for now and he has directed the ministry to look into the possibility of having a national carrier as soon as possible.
"We briefed the President of the four international terminal buildings that are being constructed using the China NEXIM Bank loan.
"They are very big projects that are 100 percent being funded by China NEXIM Bank and DMO. Work is progressing very well.
"The terminals will be ready for commissioning at the end of the first quarter of 2016. At the completion of the projects, Nigerians will appreciate the works that have been put into them.
"The capacity of the terminal would have been expanded to contain big aircraft such as the A380 Air Bus and there will be a lot of commercial activities that are obtainable in other international airports.
"We have a directive by the President to start the process of securing the management of the Nigerian airspace over the Gulf of Guinea which Ghana has been maintaining since 1945 and there is a move on the ground by Togo and Republic of Benin to take over their own airspace from Ghana."