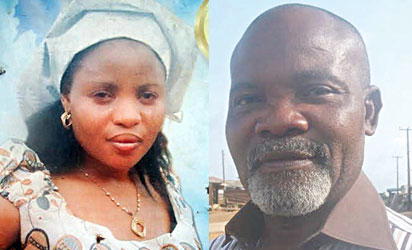 The late Christiana and High chief Adekoya
By Esther Onyegbula
Mr. Alex Egbon looked forward to an  elaborate naming ceremony for his fourth child.  But that was not to be.
His joy was cut short. The wife, Christiana, 32,  lost her life shortly after she gave birth to a baby.
Mrs. Egbon, a teacher, was the third woman in one month to die during child birth at Elepete, a boundary community between Lagos and Ogun States, causing residents to worry.
Since her death at the Ikorodu General Hospital on June 4, many residents have resorted to fasting and prayer, while others have taken to sacrifices in a bid to appease the gods of the community to stop further deaths of pregnant women.
While some residents attributed the deaths to the electrocution of an electrician simply identified as Lucky, a father of five, while fixing a faulty electrical pole in the community, others put the blame on bad roads and unavailability of hospitals in the community.
Residents said Lucky's sudden death, while working for the community, might be responsible for the deaths, saying they  had offered sacrifices to appease his spirit to no avail.
When Sunday Vanguard visited the community, the husbands of two of the deceased women lamented bitterly.
Mr. Egbon said: "That fateful day, my wife said she was having pains in her stomach. I knew her delivery date was near; so I rushed her to Ikorodu General Hospital. She eventually had the baby and she told me to bring   pepper soup for her. I brought the pepper soup which she ate. Shortly after, she said she was feeling dizzy. I called the doctor who told me my wife was losing blood. The doctor said they might have to remove her womb to stop the bleeding.
I gave the go-ahead and they wheeled her to the theatre. The doctor said he had to transfuse blood into her. He later came out of the theatre to inform me that the blood they were transfusing through my wife's vein was gushing out from her virgina. He gave me a list of drugs to buy. I went out to get the drugs. I went to Mile 12 for the drugs, but on the way, I had this strange chilly feeling.
"At that moment, I received a call from one of my relatives to come back to the hospital. I rushed back to the hospital where I saw the nurses wheeling a body on a stretcher. My relative hugged me and told me my wife had died. I broke down in tears. It is one week since her demise. We are having a low key naming ceremony. My wife was a good woman and we miss her".
When Sunday Vanguard visited Mr. Waheed, the husband of Shakirat, who also lost her life, he  was apparently distressed to speak.
It was learnt that he lost his wife and their new baby shortly after delivery.
A fellow trader where Shakirat sold building materials said the woman bled to death.
"We are shocked that she died. That day, May 15, she was the one that went to hospital herself after she felt she was about going into labour. She told me she was going to her clinic at Mowe, quite some distance from here.
Later we heard that she gave birth to a baby girl. We were expecting her to return home with the baby only to be told the sad news that she started bleeding. She died shortly after and her baby also gave up the ghost a few minutes after she died".
The Chairman of the Elepete Community Development Association, Pastor Olatoye Okesunya, told Sunday Vanguard how the third woman died.
"Early in May, I got a report that one Mrs. Wasiu Sunny bled to death after she gave birth to a baby girl. Thereafter I received the sad news that another woman with fibroid also died. We have started a prayer and fasting session to stop these mystery deaths. We brought some pastors together and we have been praying. Just as we are engaging in spiritual warfare, we can also attribute the deaths to the unavailability of a good hospital nearby", Okesunya said.
"I want to use this medium to appeal to government to build a good hospital in our community. We have land. We are mourning but we want government's intervention in the area of good roads and a standard hospital so that these ugly incidences will not befall us again".
Speaking on the deaths, the Coordinator, Women Arise For Change Initiative at Igbo-Olumo, Deacon Adebayo Obatungashe, said government should establish community hospitals to check rising cases of maternal mortality in rural areas.
"We are sad about the deaths of these women. While some are saying that the deaths are mysterious, there is no doubt that the unavailability of good health centres contributed to their death", Obutungashe said. "Members of  Women Arise for Change Initiative, led by Dr. Joe Okei- Odumakin, wept when we heard about these preventable deaths; when you visit the hospital at Igbo-Olomu which government claimed they built for N30million you will weep because there is nothing to show that such huge amount was spent there.   We appeal to government to build and equip hospitals to cater for women and children as well as others in the community."
The President of the Igbo-Olumo Central Working Committee in charge of 28  communities in Ikorodu, High Chief, Kolawole Adekoya, also expressed  sadness over the deaths of the women.   He said: "There is no good hospital around here.
The one at Igbo-Olumo community, which is closest to Elepete, is not a standard clinic. There are no doctors and the few nurses are not always around. Our women and the sick travel long distances to attend the Ikorodu General Hospital.
The roads in our communities leading to any decent hospital are in bad shape and these discourage women from attending regular ante-natal clinic. We appeal to government to come to the grassroots and bring development there. On our part, we have contributed  money to rehabilitate roads for the people through the Community Development Association, but we need government to take up where we stopped so that the promise of Change by the APC can reach our communities urgently".