By CHIOMA GABRIEL
It is often felt and hardly spoken but the body language says it all. A pregnant woman who puts to bed perceives greater joy when the baby turns out to be a boy. The female child is welcomed with restrained joy by the parents. The expression of joy when a girl is born very often shows the parents would have preferred a boy. A girl-child is an endangered specie! Right from the period of pregnancy, parents prefer to have male children. It feels good for their ego.
Would you imagine the pain of a woman who waited for years to have a child to call her own and then realised when she eventually had a female child that the body language of her husband and her in-laws was suggestive. Simply put, they would have preferred a male !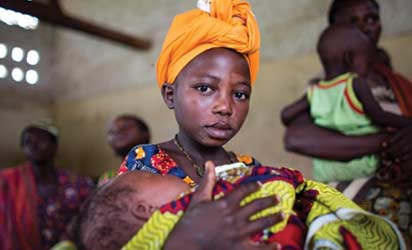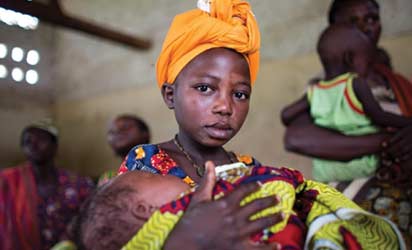 A woman recounted having a child after 15 yeas of marriage. She was 47 when the first child landed and the initial ecstasy she saw on her husband disappeared when her bundle of joy dropped. He announced to the family members that gathered to hear the good news that it was only a girl!
The father-in-law had looked at the others and exclaimed "Ah! Just one and it is a girl. A male child would have solved all the problems!"
The joy that the new mother felt died with those words! Only a girl child?
Then you just asked what was wrong with that?
Need anyone ask that question? The unspoken truth was that the male child would have been more preferable under the circumstances. She would have consolidated on her marriage and had a firm hold on the man because a male child would have guaranteed that.
It would have been a greater joy then even if the most preferred ended up being a menace in the society. The birth of many a boy-child was widely celebrated who ended up being a disappointment but who cares? With a boy, all is well by the calculations of mostly the fathers.
So who would blame a medical doctor who had five daughters from taking just another wife that would give him that male child? Even with his five daughters, family members dared say to his face that he was childless and went ahead to apportion his properties to themselves since nobody would inherit them in the absence of a male child amongst his children.
He told Vanguard, " I have to marry another wife who gave me three male children. That was the only way I could stop my brothers from messing me up. I ended up having designer babies whose sex was scientifically selected. I'm talking about in vitro fertilisation and only male sex chromosomes were used to fertilise my three boys. When it comes to tradition, these villagers can ruin you. I married another wife to protect my daughters because having a male child of my own would ensure my daughters get what it due to them."
In many parts of Igbo land, the situation is so bad that female children don't inherit from their fathers and if such a father has no son to inherit him, his brothers would take it all.
Although it takes both male and female to create life and it is often said that all children are a blessing and a gift from God , a male child is considered more important in the Nigerian society than the female child. A male child will carry the family name, and his children will have the same last name. If a family only has a daughter, the family name will die out.
Also, a son can be an heir to the father. A daughter cannot do this.
Endangered  from birth
The difference between the girl child and the boy child has always been clear. She is quiet, soft and cuddly. Basically, her first gift is a beautiful doll to cuddle. And she grows up thinking things are to be cuddled and catered for while her male counterpart grows up different.
As a boy who is meant to conquer, he is bought a football or a toy gun and he grows up kicking things around. He kicks his ball at any direction and at anybody, even at his mother and into her pot of soup. He can do anything under his parents nose and get away with it. A girl child is taught the art of taking care of a man because her entire future is dependent on that. When she reaches a certain age, the common questions and admonition become " Is she married? Go and marry and be under a man's roof!"
Definitely, she is being told to go and get kicked about because someone is being trained to do exactly that. Her male counter part is growing up and looking for bigger things to kick around. He kicks bigger things about especially the female specie! To him, girls are meant to be kicked about and treated without regard because the girl child is the weaker sex who does not deserve respect.
Should it therefore be a surprise to see young girls being sexually violated by men or grown up girls being sexually harassed? She is seen as nothing other than an object of sexual gratification and a man's 'football' to kick about as it pleases him.
In the workplace, she is expected to 'sleep' her way to the top or be frustrated out of relevance without a blink! The best thing ever to happen to her would be to get married and live under a man and bear useful children who are preferably male!
She is family-oriented while he is project-oriented. A female leaves her job for her man while the male leaves his wife for his job. Women leave their jobs because the men dominate the environment so aggressively and push her out of her domain. She creates territories. He conquers them.
No matter how you look at it, the girl child is on her way to utter deprivation, destitution and even extinction. In other words, the girl child is heading towards becoming an endangered specie if the present mindset is not changed.
In many parts of Nigeria, females were not given as many educational opportunities as her male counterparts. Thousands and thousands of years of genetic breeding may perhaps account for the dis portion.
You may have heard it from your know-it-all in-law, or a friend who happens to have one-of-each, or maybe even your doctor:
Whenever issues about her are to be seriously discussed, it bothers more around sex.
Sex is a woman
The most often question asked about a girl child is what age she can legally start having sex in Nigeria?  This question may appear simple but it is complicated.
The new Child Rights Legislation stipulates that having carnal knowledge (sex) of a child below the age of 18 is a crime in twenty-four (24) states of the federation and the Federal Capital Territory. Akwa Ibom and Kwara states specify 16 years, whilst Jigawa State specifies 15 years.
But that isn't the whole story. There are still complications in these stipulations because the traditional marriage systems stipulate generally the age of 12-14 years for girls to get married. There is no control over age when it comes to traditional societies. A new born female child can get engaged to a man old enough to be her father and by the time she is six or seven, be sent to go and live in the family of the man and no one monitors when he begins to have carnal knowledge of her.
In Igbo land for instance, child marriages from such ages below 10 years age are permitted. But the girl remains under the protection of her father in-law until she reaches the normal marriageable age of the community. But these usually look the other way when the man for whom a child is married for decides to consummate the relationship.
It is not different in other climes and religions. When a former governor who later became a Senator reportedly married a 13-year-old-girl from Nigeria and a 15-year-old girl from Egypt , hell was let loose but would one call him a pedophile?
The girl-child is very often sexually violated without recourse to the damage being done to her both physically and psychologically. It gets even worse when she is being violated by those old enough to be her grandfather or great grandfather.
Pedophiles abound in the Nigerian society and they wreak havoc in the life of the girl child on daily basis with impunity.
In Islamic religion, it is stated that Prophet Mohammed married a nine year-old-girl and gave out his own 10-year-old daughter in marriage.  The Prophet also instructed that young girls should be educated, and that marriage should never be at the expense of education. The Prophet ensured that both the nine-year-old and 10-year-old, though married were made to have full education, and the marriage was not consummated until his wife was eighteen years, and his daughter was nineteen years!
But one cannot say for sure if the Nigerian Muslim, who cites these examples, exhibited any such discipline as the Prophet exhibited. The cases of VVF which is predominant in the North portray otherwise.
Controversial legislation
Recently, the Nigerian Senate passed the Sexual Offences Bill, 2015 which prescribes life imprisonment for rapists and those who have sexual intercourse with children or the under age.
The passage of this bill followed the report of the Committee on Judiciary, Human Rights and Legal Matters, Chaired by Sen. Umaru Dahiru (APC Sokoto-South).
During the presentation of the report, Dahiru said the passage of the bill would give legal backing for the prosecution of sexual offenders. He said that if approved, rapists and those who sexually abuse children would bag life imprisonment while other sexual offenders would also be sentenced to serve various prison terms.
The then President of the Senate, Sen. David Mark, expressed delight on the efforts of the committee to evolve a stronger law against sexual violations.
David Mark had said, "I want to particularly thank and congratulate Sen. Chris Anyanwu, the sponsor of the Bill for initiating the process of this amendment.''
Senator Chris Anyanwu had listed some of the sexual offences captured by the Bill to include gang rape, lacing drinks with drugs with intent to sexually abuse, deliberately infecting partner with HIV and other diseases.
She also included child sex tourism, sexual harassment and prostitution of persons with mental disabilities. She said the bill had mandated the storing of names of sexual offenders in database for institutional and social discrimination.
"Culprits would never be employed in any institution where they may pose a risk to unsuspecting persons. You can see that the penalties are weighty,'' she said.
Anyanwu also said convicted offenders would be subjected to compulsory medical examination, while "those that, however, bring false sexual allegation against any person will also be liable for punishment.''
But the passage of the Bill was wrongly construed in some quarters who perceived it as justifying marriage at age 13 for the girl-child. But what the bill seeks to do is to protect people of different categories, minors, teenagers, the aged and people with disability from being sexually assaulted. The misconception was that the bill tried to encourage defilement of minors. Some of the initial propositions were discarded before the bill was passed.
History
Indeed, history is replete with instances of girl child sexual abuses in Nigeria. One of the cases involved Mayen, 15, who lived with her uncle in Kano.  Her uncle had a friend who was a political powerful figure and often visited Mayen's uncle. During one of such visits, he saw Mayen in his house.
He sought her hand in marriage and Mayen's uncle gave Mayen away to the Alhaji . Afterwards, there was a riot in Kano, and Mayen escaped and went home to her father in Akwa Ibom. The father would not allow Mayen to leave the house or return to Kano. He refused to buy Alhaji's plea that Mayen is his legally married wife, and he has come to take her back to Kano. Now, many think the Attorney-General of Cross River State ought to prosecute Alhaji for having carnal knowledge of Mayen who was 15 at the time of the marriage.
In Lagos, there was reportedly a similar incident when a 15-year old girl, Abike, living in Kano got married under the sharia law. On her return to Lagos, her father refused to accept that she was married because there was no parental consent.
The practice of child marriages in Nigeria has never been pleasant. Over the years, we have seen children being married out as brides when they should be in school. In the present day Nigeria, one would presume that child marriage has been outdated but that is far from the truth.
Sometimes, it appears that Nigeria has refused to see the importance of a girl child, her education and her future. The future of great women is being destroyed by their country because of greed and wickedness. Politicians have used religious tactics to satisfy their selfish interest, satisfying their perversion on the breasts of the innocent girl child.
In the cases of Mayen and Abike, the Child's Rights Laws of Lagos State and Cross River State respectively stipulate 18 as age of consent. The Law is clear that when conflicts such as these arise, the domicile of the father will be the domicile of Abike and that of Mayen but in their cases, there was no evidence of such consents given. They would have been valid if the consent of the parents had actually been obtained.
Issues like this come up often at different points across the 36 states of the federation. There are still 12 States of the Federation (11 in the North and 1 in the South) which have still not yet passed the Child Rights Legislation. The tenets of Customary Law and Islamic Law still hold sway in those states.
There are Statutory Laws on rape (Criminal Code and Panel Codes) in those states.  Even if we leave all that, how about the absence of a law of statutory rape like in the UK where the Criminal Law specified 16 for the age of consent, where the girl is unmarried; whilst the Penal Code specifies the age of 14 years. On its own put, the Sharia Penal Code specifies the age of 13 years.
What the law in Nigeria says now is absurd. Any carnal knowledge before 18 is a crime except where a marriage (traditional or religious) has taken place in which case, no crime is deemed to have been committed.
The girl child is sexually violated all the time
It is a story we read everyday on the passages of the newspapers. Fathers sexually violate and impregnate their own daughters. Minors are sexually abused by their guardians and other family members.
In February 2014, a man in Osun was reportedly arrested by the police and charged for reports that he had forceful intercourse with a toddler. 27-year-old Akeeb was said to have raped the two-year-old girl at his residence in the Ifelodun Local Government area of the state.
In Lagos around the same time, a man was also arrested and charged for sexually assaulting a set of twin girls.
Yusuf , a cobbler reportedly made it a habit to fondle the little girls who are his neighbour's children.
He was charged with these crimes before a Magistrate court sitting in the Ebute Metta area of the state. Yusuf, alongside his friend, Akibu, a bouncer who happened to be neighbours with the girls' parent at Lagos Island, were in the habit of calling the twins to their room to assault them by inserting their fingers into their private parts.
Their mother Mrs Akeem said she came to know about the assault when she discovered swelling around her daughters' private parts while she was bathing them. She asked them what happened and they told her it was Yusuf that has been assaulting them.
In another development, a man in Abuja was sometime arrested for having forceful sexual intercourse with a toddler.
Monday Godswill was said to have raped a 3-year-old girl after being found guilty of a previous rape.
The police in the Bwari area of the Federal Capital Territory arrested the suspect.
A police officer at the Mpape police station, who reportedly declined to give his name due to the sensitivity of the case said: "the suspect has been involved in a rape case before as record showed that he was arrested and actually charged to court for raping a four-year-old girl before but unfortunately, he was set free after paying a fine of N3,000."
In Ogun state, a 60-year-old man was once apprehended by the police following reports that he had raped a young girl. The suspect, identified simply as Akinduro, was said to be the owner of a private hostel in Ikenne area of the state.
The 12-year-old girl, a student of the Mayflower school, was one of the residents of his hostel and Akinduro was said to have had forceful sexual intercourse with her twice.
The parents of the girl reportedly could not afford the exorbitant accommodation fee in the school, prompting her parents to send her to the private hostel. But the custodian, Akinduro, had carnal knowledge of her on two occasions and the girl could no longer cope with the situation and raised the alarm which attracted sympathizers.
In Taraba, a 27-year old man was arrested by the police and taken before a court on allegations of rape. William Julius, was reportedly arraigned before a Magistrate Court in Jalingo, the state capital, for having forceful sexual intercourse with a  five-year-old girl.
The incident was reported by the victim's father who accused the suspect of luring his little daughter into an uncompleted building where he then perpetrated the evil act.
Sometime last year, a teenage boy in Gombe was arrested after he raped a toddler. The unidentified 17-year-old was apprehended by operatives of the Nigeria Security and Civil Defence Corps (NSCDC) after his victim's mother filed a report.
The suspect was arrested in Kwami shortly after the mother of the victim, Malama Fatima Abdullahi, reported the case to Kwami division of the command. The mother of the victim told the police that the accused was their neighbour, adding that she became suspicious when the girl came back home crying. The mother discovered blood coming out from the girl's private part and when she asked about the cause, her daughter pointed at the neighbour's door.
Cases like these abound all over the country and are mostly under reported.
Female kid hawkers face the greatest danger
You see these girls everyday hawking oranges, banana or whatever around the neighbourhood. Female hawkers are always all over the place but in many cases, those who patronise them end up abusing them and violating them sexually. Street hawking exposes young girls to all forms of hazards, including sexual abuse.
The World Health Organization estimates that at least one in five of world's female population has been physically or sexually abused.
Esther, now 17, told this reporter that she started hawking as a child because her mother would pack satchet water for her to sell. She hawks around the busy streets of Alimosho in Lagos State until she was taken in by another woman as a house-help.
" When I was hawking for my mother, I always stopped by the woman's shop to play with her daughter and that was how we met. Her daughter was just my age and we got on well and she took me in to live with them. I was her daughters playmate and companion until a male relation came visiting. I was also doing house chores and she was nice to me. But her male visitor was my nightmare. I lost count of the number of times he slept with me and to me, sex was like a service I had to render to him. I started having sex with him from age eight until I turned 11. He threatened me and said he would would deal with me if I told anybody. I was scared of him and he kept doing it until I got used to it. I never told anybody and besides, the woman was hardly around.
"He later went to the University and I stayed on with the family. But one day, the woman said she was looking for her money and accused me of stealing it. I did not do that. She sent me away and I returned to my mother and continued hawking for her. I suspect my mother knew a long time that I'm no longer a virgin even before I started seeing my menstruation. She once asked me who touched me and I didn't understand what she meant. But later, she came to spread my legs when I was sleeping to look through my private part and in the morning, she asked me again who touched me. Then, she stopped me from hawking and said I should go and learn hair dressing."
Esther is just one of the many victims of the harsh Nigerian environment .The child on the street is exposed to malnutrition, respiratory tract infection, mental illness and substance abuse and the young female hawkers are in addition particularly vulnerable to all forms of violence including sexual exploitation by men.
Men tend to prefer young girls as sexual partners because they assume they are sexually inexperienced and as such are less likely to be infected with sexually transmitted diseases. In a society with poorly developed social network and intervention,many of the girls accept it as their lot and fear being stigmatized if they should report.
For several years, the traditional Nigerian society has deliberately discriminated against the girl child especially as regards education with the wrong belief that subsequent marriage will deprive the parents and family of such investment. In order not to waste limited resources and to make the girl more "useful"to her family, she is given minimal education and the result is low aspiration and limited career and employment opportunities.
There are also stress related problems when some of these girls are given to rich families as house helps or baby sitters or are sent into the street to hawk.
The girl child is often sent onto the streets to hawk all kinds of wares because of poverty related issues and to help supplement family income.
In a sex drenched society like ours, the girl child is more at risk.
A study on street children in Nigeria found that more than 15.4 % of female adolescent hawkers had procured abortion at least twice, had been pregnant without knowing who was responsible, had experienced rape and also contracted sexually transmitted infections (including HIV).
A more recent study showed that 30% of the violence experienced by girls on the street is sexual in nature. This is an issue of great importance because in the traditional African society, the concept of sexuality is enshrouded in secrecy.
Most abused girls do not report the crime because of the stigma attached to the issue. Although the society has sympathy for victims of sexual violence, it also visits them with some stigma.
Children should  be cautioned against inappropriate behaviour  directed at them —Chukwuma
Mrs Josephine Chukwuma, the Executive Director, Project Alert on Violence against Women, said children should be cautioned against inappropriate behaviour directed at them.
Chukwuma said an informed girl-child would not be a subject of abuse, whether it was done by family members, friends or strangers.
"We need to empower the girl-child and we even empower her through information; information is knowledge. A lot of our children don't get the right information from the right source at the right time.
There are a lot of things that come into play when a child is growing up including the environment, culture and, of course, the family. With family as the cornerstone, parents can only give their child the information they have. If they don't have it, they can't give. Let a girl-child from an early age know the difference between a good touch and a bad touch.
"We call it age appropriate messaging. There's a way you talk to a four-year-old child, it's different from the way you communicate with a 10-year-old and definitely different from the way you communicate with a 14-year-old. But at the same time, you can get your message across. So it's not too early to tell a four-year old or the three-year-old, don't sit on a man's laps.
"Sit on the chair, sit on a stool, so if any uncle comes to your house and says come and sit on my laps, you're a big girl. Let her tell the uncle that she is a big girl and can sit on the chair. There is no offence, there's no insult there.
"From the home, depending on the age, you can let them know what the public areas are and what the private areas are. It's not too early. People will say that you are teaching these children sex. No, you are empowering them to take ownership of their bodies and not allow their bodies to be abused by those who ordinarily should know better.
"We are in very horrible times. I don't know what old men are looking for in the bodies of little girls.
Without sounding alarmist, we have an epidemic of abuse on our hands and it is only through awareness and vigilance that we can protect our children," she said.