Compiled by Juliet Ebirim
In October  last year, stand-up comedian Hannibal Buress  performed a routine about the various sexual assault allegations that had piled up over the years against famed comedian and actor Bill Cosby. Video of the routine went viral, and, since then, dozens of women have come forward to accuse Cosby of sexual misconduct.
Though many of their allegations had been reported on, and several out-of-court settlements had been reached–some going as far back as the 1980s–Cosby himself never suffered damage to his reputation, nor was there ever a groundswell of support for the women he had allegedly violated.
The disturbingly similar stories involve pills or spiked drinks, unconsciousness, and a naked or near-naked Cosby thrusting himself upon them. Some of the stories involve groping or indecent exposure, some involve outright rape. The following is a list of women who have accused Bill Cosby of sexual assault of any kind.
Presently, the total number of women is 45.
Jewel Allison, former model, says Cosby drugged her glass of wine when the two had dinner together at his home in the 1980s. Allison claims Cosby led her to a mirror, placed her hand on his genitals, gave her a hard kiss, and then called her a cab.
Lili Bernard was an actress preparing for a role on the final season of The Cosby Show when Cosby drugged and raped her in 1992. After, Bernard claims Cosby shouted that she was "dead" and "didn't exist" and that he never wanted to see her again, and that she feared for her life.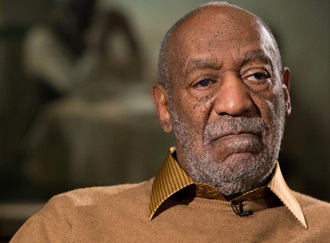 Barbara Bowman claims that Cosby pursued a relationship as her mentor while Bowman was a teenager, and that, as an aspiring model at the age of 17, Cosby drugged and assaulted her several times.
Linda Brown says Cosby invited her to his hotel room after a show in 1969. When Brown arrived, Cosby gave Brown a soft drink; she blacked out after drinking it. When she came to, the two were naked in bed together; Cosby flipped Brown over and sexually assaulted her.
Shawn Brown claimed that in 1973 (when her name was Shawn Upshaw) Cosby drugged and raped her. She further claimed that her daughter, Autumn Jackson, was Cosby's child. Cosby has admitted to sleeping with Brown, but denies that the child is his.
Autumn Burns worked at a Las Vegas casino in 1970 when she met Cosby. Burns claims Cosby invited her to his room, fed her alcohol that made her feel "not in control," and forced her into sexual acts.
Sarita Butterfield accused Cosby of cornering her, kissing her, and trying to fondle her breasts during a dinner party with family present on Christmas Eve, 1974.
Chelan says that Cosby promised to introduce her to modeling agents when the two met in 1986. Cosby then gave her a blue pill which made her very groggy, and sexually assaulted her before she passed out. (Chelan has not given her last name)
Andrea Constand worked for Temple University, Cosby's alma mater, in 2004. Constand says that when she visited Cosby's home to talk about career advice, he gave her herbal pills for anxiety, and then "touched her breasts and genital area, rubbed his penis against her hand," and penetrated her "digitally." Constand was 31 at the time.
Lachele Covington, then 20, accused Cosby of pulling her hand towards his penis during a conversation about career advice on January 25, 2000.
 Janice Dickinson accused Cosby of drugging her with pain pills and  raping her in 1982.
Joyce Emmons, former comedy club owner, says she took a pill from Cosby for a headache, blacked out, and came to naked in bed with a friend of Cosby's. When she confronted him, he laughed and told her he had given her a Quaalude.
Beth Ferrier alleges that she had been in a consensual relationship with Cosby for a time in the 1980s, but that he drugged her coffee when she visited him in his dressing room before a performance in Denver in 1984.
Carla Ferrigno claims that Cosby grabbed her and kissed her forcefully while the two were at a party in 1967.
Chloe Goins, a model and lap dancer, accused Cosby of drugging her and assaulting her sexually during an encounter at the Playboy Mansion in 2008,  when Goins was 18.
Tamara Green, a retired trial attorney, appeared on the Today show in 2005  to claim that Cosby had drugged her and assaulted her sexually in the 1970s.
Helen Hayes claims Cosby groped her in 1973 after she met him at a celebrity tennis tournament.
Renita Cheney Hill says that Cosby drugged and assaulted her more than once, beginning when she was a 19-year-old.
Michelle Hurd accused Cosby of groping and fondling her while she was an extra on The Cosby Show in the 1980s.
Judy Huth accused Cosby of sexually abusing her during a party at the Playboy Mansion just days after they met in 1974. Huth was 15 years old at the time.
Beverly Johnson says that, while she was being considered for a role on The Cosby Show in the mid-1980s,  she visited Cosby at his home. While she was there, Cosby told her to act drunk and put his arms around her before pulling her down a flight of stairs. When Johnson objected, Cosby ordered her to leave.
Lisa Jones, a Canadian model who met with Cosby about a role on his show in 1986, says Cosby gave her alcohol and then tried to pry her legs apart as she walked by him. Jones says Cosby also made a series of derogatory remarks about how women needed to use the casting couch to get ahead.
Kacey, who was an assistant to one of Cosby's talent agency reps in the early 90s,  was invited to Cosby's house to read through a Cosby Show script that involved kissing. Shortly afterward, Cosby gave Kacey a white pill, and she passed out; when she came to, the two were naked in bed together. (Kacey has chosen to keep her last name a secret.)
Janice Baker Kinney claims Cosby drugged and raped her after she met him while waitressing at a casino in 1982. Kinney says Cosby ordered her never to talk about what had happened, and that, for years, she felt like it was her fault.
Linda Kirkpatrick accuses Cosby of drugging her with a clear liquid and sexually assaulting her at a tennis tournament in 1981.
Cindra Ladd accuses Cosby of  drugging her with a pill and allegedly having sex with her while she worked as a New York movie producer in 1969.
Charlotte Laws has not accused Cosby of any wrongdoing to her person. But she does say that, in 1981, Cosby fed her friend Sandy two pills, which knocked her unconscious. Cosby then had sex with Sandy. Laws says that Sandy does not consider the matter rape, since the two were already in a consensual relationship, but that Laws (and the lawyers to which she's spoken) do consider it rape, since Sandy was physically unable to give consent.