By Jacob Ajom
The roof of the Sir Mobolaji Johnson Indoor Sports Hall almost blew off following the loud ovation that greeted the elimination of the defending champion of the Lagos International Badminton Classics Misha Zilberman via a 2-1 defeat by 511 ranked Ifraimu Janikam of Nigeria  in a dramatic round of 32 match yesterday.
The Israeli who is ranked 49 in the world began the tournament as top seed and was expected to make a mincemeat of his lower ranked Nigerian opponent but ended up getting the shock of his life.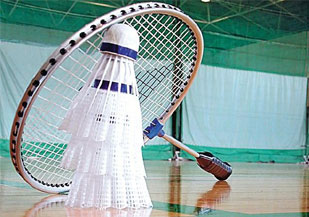 In the opening set he showed a lot of resistance only to lose 20-22 to the Nigerian. He recovered in the second set which he took at 21-12 but soon fell 21-18 in the final set to the charged Nigerian who had the capacity crowd behind him.
An elated chairman of the Lagos State Badminton Association, Francis Orbih said, ''it's been a wonderful tournament both in organisation and in terms of results. Above all, the number of countries in attendance makes it even more successful. Last year we had 16 but we have 26 countries, including Nigeria in attendance this year.
''This is the biggest Badminton tournament ever held in Africa. What we need now is corporate backing so that we can encourage the likes of Jinkam to greater heights.''
The tournament ends tomorrow at the Sir Mobolaji Johnson Indoor Sports Hall, Rowe Park, Yaba Lagos.