By Kingsley Adegboye
No fewer that 11 states in Nigeria are at risk of flooding, according to the Nigerian Hydrological Agency, NHSA. The Agency which unveiled its 2015 Annual Flood Outlook has therefore advised the concerned states to come up with effective mitigation strategies, capable of preventing flooding within their territories.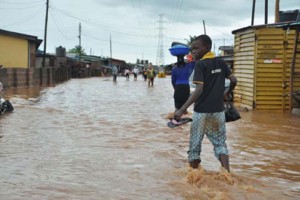 The Agency listed the high flood risk areas to include Sokoto-Rima, Niger, Benue Basins and parts of Anambra Basin.
NHSA disclosed that coastal flooding resulting from sea level rise and tidal surges are likely to occur in Bayelsa, Rivers, Delta and Lagos states. Similarly, flash floods, according to the Agency, might be experienced in Lagos, Port-Harcourt, Sokoto, Birnin Kebbi, Ibadan and towns along the coastline.
According to NHSA, flood events within these basins are influenced largely by factors operating outside Nigeria. Some of the runoff generated as far as the foothills of the Futa Djallon Mountain in the Republic of Guinea, may end up in the Niger Delta area of Nigeria.
Some parts of Nigeria, the NHSA report stated are precariously placed in terms of flood vulnerability because the factors generating the flood are from areas outside the territorial boundaries of Nigeria. According to the agency, the control of such floods is therefore difficult unless there are regional agreements and cooperation.
"Indeed rain is here and there is every need for Nigerians to put in place responsive mitigation measures that would help in reducing flooding hazards. There is no gainsaying that flood and other extreme weather and climate events are often accompanied by loss of lives and property, damage to crucial infrastructures, disruption of socio-economic activities and in some cases, displacement of people in the affected areas,"the Agency said.. It noted that the devastation caused by extreme events and especially floods have been exacerbated by low level of awareness of the consequential effects of human activities on drainage systems, such as dumping of refuse, erecting of structures on flood plains and other indiscriminate actions that interfere with the free flow of water.
"These hydrological trends which are attributable to global warming and climate change, occasioned by anthropogenic activities are being tackled using both structural and non-structural measures. Nigeria is not left out in these hydrological manifestations or scenarios",  the agency said.
Speaking at the presentation of the flood outlook, the Permanent Secretary, Ministry of Water Resources, Mr. Istifanus Musa called on policy makers and stakeholders to promote adequate preparedness so as to reduce the losses from flooding.
According to Musa, there is the need to embark on flood prevention and mitigation measures that would ensure free flowing drainage systems, as well as good operation and maintenance of hydraulic structures such as dams and reservoirs.
The Permanent Secretary further explained that the 2015 edition of the AFO has expanded on models and product interpretations used in the 2014 NHSA probable flood scenarios for 2014.
The Director General, NHSA, Mr. Moses Beckley in the executive summary of the 2015 annual flood outlook stated that in fulfillment of the statutory mandate of the agency which includes to issue forecast for flood, prepared the 2015 flood outlook to provide necessary information to Nigerians especially those living in flood prone areas towards better preparedness to mitigate its effects.