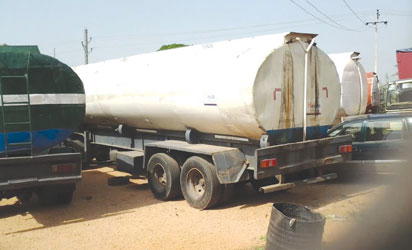 Fuel trucks
By Favour Nnabugwu
Telecoms giant, MTN Nigeria said it spent N8billion worth of diesel yearly to run their telecoms installations, especially the Base Station Transceiver Stations (BTS).
The cost, according to MTN Nigeria's Corporate Services Executive, Mr Akinwale Goodluck was incurred annually to purchase diesel due to the absence of stable public electricity supply.
Goodluck lamented the inadequate supply of light which chopped off 60 percent of its operation cost of doing business in the country despite the fact that its operations depend wholly on stable power source, added that the telecom company has continue to stagger under heavy cost of diesel used to run generating sets at their cell sites.
MTN which was the sole sponsor of this year's Nigerian Civil Service Day at the occasion in Abuja yesterday, deployed generating sets to power its base stations and BTS sites for about 17 to 20 hours a day
Confirming the huge cost of running base stations operations by the operators, Goodluck maintained that power issues had, indeed, necessitated the operator decision to install two generators at each of their sites.
"The huge amount spent on diesel, generating sets and other associated expenses could otherwise be spent on network expansion towards providing better services to the growing telecoms consumers," he said.
"What we spend on diesel in Nigeria is two or three times higher than what we spend in other African countries."
Though, he said the population of the country also happened to be a challenged which could have been surmounted of the proper amenities are on ground , stating that the telecom company is seeking to partner with small operators to for wide and better services.
"Our efforts to positively contribute to people's lives are clear in the products and services we provide. This is how we create sustainable economic value for both our business and stakeholders."