Say party's views should be respected
By Ben Agande
Abuja — Governors of the All Progressives Congress, APC, have resolved to wade into the leadership crisis in the Senate after meeting with President Muhammadu Buhari to express their displeasure over what is happening in the Senate.
Addressing State House correspondents after a closed door meeting with President Buhari, the governors of Imo and Edo states, Rochas Okorocha and Adams Oshiomhole respectively said the senators cannot continue to act in defiance of the party's directives.
Okorocha, who first spoke, said the governors decided to meet with the President because  "we are not happy with what is happening within our senators in the National Assembly. We thought we should rub minds with Mr. President and to commend him on the steps taken so far to address the issue of the economy of the nation which is totally in shambles.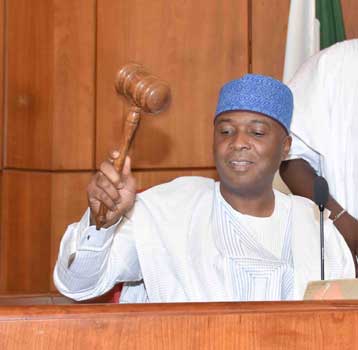 "And the meeting we had with Mr. President this morning (yesterday) is more reassuring that there is light at the end of the tunnel. Despite this progress, we are worried by pockets of disagreement at the National Assembly and we resolve that we came from a party and our party's views should be respected and we feel there is need to invite our senators into the matter and see what we can do. But we believe we came from a party and everyone should respect the party.
"What we are saying is that there shouldn't be a winner takes it all. We should carry everyone along and accommodate others as suggested by the party."
In his contribution, Governor Oshiomhole said what the governors discussed with the president was to emphasise the supremacy of the party.
He said: "Basically what we are saying is that senators should adopt the position of the party because we all got elected on the platform of the party. We are not just a collection of individuals, we are a political party. And when the party has spoken, you must listen, otherwise, if it was a game of individual like golf, then individuals can go their way.
"I think it is very clear at this point that the party has a responsibility to keep the system going. So we are progressive governors, we've listened to the president, we've discussed extensively and we are clear that the party must be supported by the senators.
"This is the way it should be and we should start on working closely. We as governors listen to the party and we expect our senators to do same. like Okorocha said, we are going to call them and explain our reasons to them."