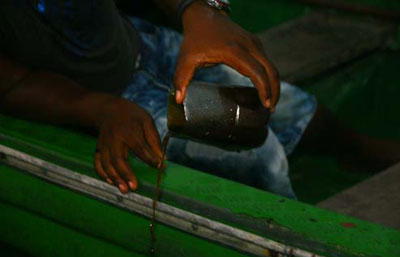 A Gbaramatu citizen examining an oil spill in the river
By Ikechukwu Nnochiri
The Supreme Court, yesterday, ordered Shell Petroleum Development Company of Nigeria Limited to pay the sum of N30,288,681 to four communities in Delta State.
The apex court found the company culpable for the oil spillage that adversely affected the communities about 32 years ago.
The communities to benefit from the judgment of the court yesterday are Obotobo, Sokebolo, Ofogbene (Ezon Burutu) and Ekeremor Zion (Ezon Asa).
Some leaders of the communities had in 1983, dragged the oil company before a High Court of the then Bendel State.
In a judgment it delivered on May 27, 1997, the Bendel State High Court adjudged the matter in favour of the communities, even as it awarded the sums of N4,095,085 to Obotobo; N13,278,306 to Sokebolo; N7,392,589 to Ofogbene (Ezon Burutu) and N5,522,701 to Ekeremor Zion (Ezon Asa).
Dissatisfied with the judgment, Shell Petroleum Development Company of Nigeria Limited took the matter before the Court of Appeal in Benin City.
In a verdict it gave on May 22, 2000, the appellate court, affirmed the decision of the trial court and directed the company to immediately pay compensation to the four communities.
Determined not to pay the communities, the oil company approached the Supreme Court, praying it to set aside the concurrent judgements of the two lower courts.
Nevertheless, delivering judgment on the matter yesterday, a five-man panel of Justices of the apex court, led by Justice John Fabiyi, dismissed t he appeal as grossly lacking in merit.
Besides, the apex court awarded a cost of N500,000 against Shell.
In the lead verdict which was delivered yesterday by Justice Kumai Akaahs, the apex court upheld the damages that were awarded against Shell over the oil spillage disaster that affected the four Delta communities.
Other members of the apex court panel that equally concurred with the judgment yesterday were Justices Clara Ogunbiyi, Kudirat Kekere-Ekun and Chima Nweze.
Specifically, the apex court said it was convinced that the damages awarded by the lower courts were not baseless or erroneous, saying there was ample evidence against the oil firm.