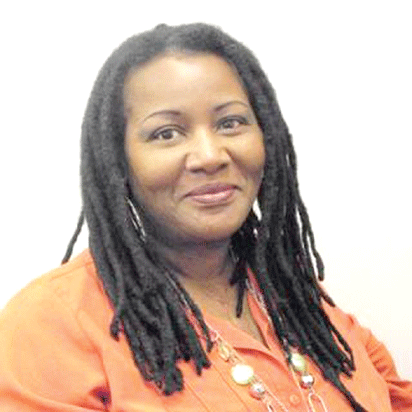 Nuzo Onoh
By Prisca Sam-Duru
African Horror , new literary genre which introduces Nigerian culture into this category  of writing, has birthed in Lagos, thanks to the pioneering works of  Nigerian-British writer Nuzo Onoh. With the recent spread of regional horror such as Japanese, Korean, Indian and Scandinavian Horror, African Horror is finally taking its rightful place in that literary genre, courtesy of the writings of Nuzo, daughter of the late ex-governor of old Anambra State, Dr. C.C. Onoh.
Her début novel, The Reluctant Dead, is a collection of ghost stories set in Igbo-land, from Enugu to Onitsha, depicting terrifying, haunting, manifestations and possessions by ghosts with unfinished business. The book was so well received that the BBC World Service ran a programme on it, with people from around the globe tweeting about it.
The book established Nuzo as the frontrunner of modern African Horror, especially by a female writer. Nuzo's next book, Unhallowed Graves, is due out this 28th June and follows in the traditions of The Reluctant Dead. In her latest book, Nuzo writes about hauntings and re-incarnations by vengeful ghosts of people buried in Ajo-ofia or accursed grounds, a custom prevalent in the olden days and still practiced in some villages to date.
Giving a speech at the last African literary Evening held in London,Nuzo stated that it was time African Horror ceased to be portrayed as a negative condition of the planet rather than a bona-fide literary genre. Encouraging more writers to write works in that genre, Nuzo said that a deluge of African Horror books would stop western media from adopting the term to describe wars, crimes, famine, AIDS, Ebola and other disasters that affect the African continent.
Nuzo continues to pay homage to Amos Tutuola and Mike Okri, whom she credits as the founding fathers of African Horror, albeit the term was not used to describe their works.
Nuzo, who holds both a law degree and a Masters degree in Writing from Warwick University, England, also runs her own publishing house, Canaan-Star Publishing, which publishes books from authors around the globe. She is also a regular guest on the BBC Coventry & Warwickshire Radio. Going by the success of The Reluctant Dead, her latest book, Unhallowed Graves, is bound to garner more support from fans thirsty to learn more about Ndigbo and their rich and unique culture.