By Oghene Omonisa
Craftsmen at Aba, Abia State as well as traders at Onitsha, Anambra State should get prepared to receive new apprentices from Ekiti State.
This is being promoted as a bid by the Ekiti State government to ensure that Ekiti youths are trained to be self-reliant and look beyond government patronage, and to also prove that, aside education, developing unskilled Ekiti youths does not warrant only sending them overseas for training.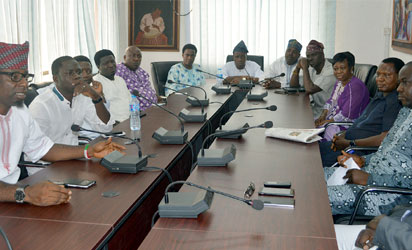 The idea was floated by Hon. (Dr.) STB Omotoso, Ekiti State House of Assembly Member-elect (Oye 1 Constituency, PDP) during a courtesy visit by Ekiti State Assembly Members-elect to the corporate head office of Vanguard Media Ltd, Kirikiri, Apapa, Lagos, on Wednesday last week.
Hon. Omotosho, while condemning critics of Gov. Ayo Fayose of Ekiti State for their criticisms of what has come to be termed "stomach infrastructure", said such criticisms give the concept a narrow definition as it goes beyond giving gifts of bags of rice and other foodstuff to voters to influence their choice.
"Stomach infrastructure is narrowly defined by critics of Governor Fayose", Hon. Omotosho said. "It is not all about just feeding people or giving gifts to people. If one should expatiate on the concept, it entails providing the people not only with the basic necessities of life after election, but also empowering them by making them self-reliant, with the best education and training and then giving them employment, which the Fayose government is presently engaged in."
Speaking further, the lawmaker-elect said the Ekiti State government did not need to waste scarce resources sending Ekiti unskilled youths to Europe or America for training. "Instead, they could be sent to Aba to learn how to make shoes and bags, and to Onitsha to master trade; while those who are qualified and competent will be given local contracts. This is the concept behind the so-called 'stomach infrastructure' and not just distributing gift items. Stomach infrastructure goes on after election. It is about helping the poor. It is about engaging them in what can feed them earn a living. That's what Fayose wants to continue doing. He needs stability to achieve for no progress can be made during crisis. We have had enough crisis and we want peaqce in our state."
Aba, well known for its handicrafts, is reputed for its handmade shoes and handbags. It is also a major manufacturing and trading centre in South-Eastern Nigeria, with its Ariaria International Market as the largest market in West Africa, seconded by the Onitsha Main Market.
And Onitsha is known for its trading, where the average traders are known to bring in at least six consignments of 40 tonnes (40-feet containers) of goods annually. Some of the major importers do more than 20 consignments of 40 tonnes of goods per year.
Interestingly, the multi-billion dollar economies of both commercial towns are dominated by craftsmen and merchants many of whom do not have university education, but rely on apprenticeship to cut their teeth in the trades before going on their own.
It will be recalled that "stomach infrastructure" crept into Nigeria's political lexicon following the 2014 Ekiti State governorship election when voters were given gifts of bags of rice and other foodstuff by office contenders to influence their choice. Both Fayose and Fayemi, the then governor gave out gifts. But Fayose's became so prominent that it was believed to have led to his victory.
Fayose sending Ekiti youths to Aba and Onitsha in furtherance of his stomach infrastructure will be a move which is believed will enjoy the backing of the incoming Ekiti State House of Assembly, as all 26 members-elect were elected on PDP ticket, like the governor.
The youths, according to the said plan, are expected to return to Ekiti State after completing their apprenticeship, to re-enact the Aba and Onitsha phenomenon in their home state.
Speaking in similar vein, Hon. Fajemilehin (Gboyin West Constituency, PDP) and Hon. (Princess) Titilayo Owolabi (Ikole 2. Constituency, PDP) argued that giving gift items to voters has historically been a part of Nigeria's electioneering process and was not begun by Fayose nor was it peculiar to him.
Hon. Fajemilehin noted that during campaign in recent governorship elections in the South-West, the All Progressives Congress (APC) distributed to voters, free bags of rice and bread carrying the names and photographs of its candidates, citing cases of Rauf Aregbesola in Osun State, Abiola Ajimobi, Oyo State, and Akinwumi Ambode, Lagos State; but alleged that nobody noticed all these and that they were never condemned like they still do to Fayose.
Hon. Fajemilehin also noted that stomach infrastructure has seen Fayose awarding contracts to local contractors for them to make profits and cater for their family, unlike before, when furniture and some items were brought from overseas.
The Honourable Member-elect also attributed to stomach infrastructure the governor's paying of WAEC fees and several other fees on behalf of students, as well as buying tractors and setting up markets.
Also speaking, Hon. (Chief) Gboyega Aribisogan (Ikole 1. Constituency, PDP) revealed that most public perceptions of Gov. Fayose were a media creation orchestrated by his political opponents, which necessitated their visit, as the people of Ekiti State, who elected them would not expect them to stand by and watch their state destroyed by "external forces with their selfish interests."
Every speaker spoke positively of Gov. Fayose, promising that the incoming House would support and work with him.
They described him as a phenomenon, a man passionate about the people and a man of peace, and that that was why he was overwhelmingly elected by the people of the state.
Oremekunu (friend of the poor) was frequently used to describe Gov. Fayose.
All the lawmakers emphasized on peace, saying that the state needed peace to develop and that Fayose had repeatedly tried to make peace with all in the state.
They assured that while the incoming legislature and the executive arm would enjoy a robust relationship, they would not be "proteges of Gov. Fayose."
The visiting team was led by Hon. (Pastor) Kola Oluwaloye (Moba 1.). Other members included Mr. Tola Esan, Clerk of the present House, Hon. (Chief) Gboyega Aribisogan (Ikole 1), Hon. Sina Animaseun (Ekiti West 2.), Hon. (Princess) Owolabi Titilayo (Ikole 2.), Mr. Tolu Afolabi (Director of Information), Hon. Fajemilehin Ayodele (Gboyin), Hon. Adeniran Alagbada (Ise/Orun) and Hon. (Dr.) S.T.B. Omotoso (Oye 1.). Others were Hon. Akinleye Ekundayo (Ijero), Hon. Akinyele Olatunji (Oye 2.), Hon. Pelemo Dare (Ekiti East 2.), Hon. Henry Aladeyelu Olusanya (Ifelodun/Irepodun) and Hon. Olusegun Adewumi.
Subscribe for latest Videos