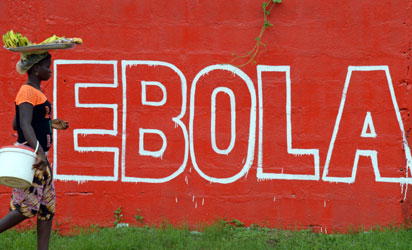 File: A seller of bananas walks past a slogan painted on a wall reading "Ebola" in Monrovia on August 31, 2014. Liberia on August 30, 2014 said it would deny permission for any crew to disembark from ships at the country's four seaports until the Ebola epidemic ravaging west Africa was under control. AFP PHOTO
By Victoria Ojeme
ABUJA—It was all drama, yesterday, at the Ministry of Health in Abuja as workers stopped plain-clothes policemen from arresting top officials of the ministry over alleged mismanagement of N1.9 billion Ebola fund.
Reliable sources disclosed to Vanguard in Abuja that other officials pencilled down for the arrest in connection with the fund included top officials of National Centre for Disease Control, NCDC.
It was learned that one of the top officials was picked up in his office and brought to the third floor with the intention to also pick up another official, who was discovered not to be in his office at the time the policemen arrived.
As the drama unfolded, the official was said to have insisted that he would not follow the policemen unless they obtained permission from the permanent secretary.
Vanguard gathered that at a point, the workers ordered the security guard to lock the gate to prevent the policemen from taking the suspect away.
In the middle of the melee, an Assistant Superintendent of Police attached to the secretariat approached the team from the police headquarters and pleaded that proper channel be explored to forestall chaos.
Reason for invasion
The police team, led by one Inspector from the Analytical Tracking and Interception unit, under the Inspector General of Police, IGP, monitoring team, was said to have explained that they decided to effect the arrest of the  ministry officials because they refused to honour an earlier invitation over allegations against them.
The police team, Vanguard learned, acted on allegations filed against the ministry officials, which bordered on fraud and mismanagement of N1.9 billion Ebola fund.
A 15-page document obtained by reporters gave a complete breakdown of how the amount was reportedly spent.
According to the document, the procurement of isolation tents took N900 million, according to an expenditure payment voucher, dated August 11, 2014.
Another N28,220,000 million was also reportedly released for the decontamination of one hospital in Lagos.
An official was documented to have withdrawn N63,581,250 million for pre-departure training of Nigerian volunteers who left the country on December 5, 2014, for Liberia and Sierra Leone to assist in the fight against Ebola.
However, the document claimed that African Union Commission paid for all the expenses.