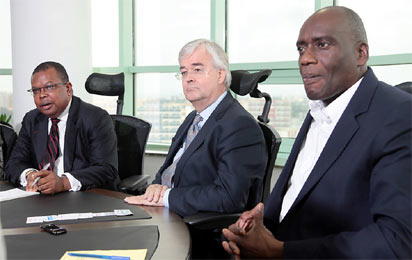 *From right Mr Seyi Bickersteth Senior Partner KPMG Nigeria, Mr Andrew Michael, Global Chairman KPMG and Joseph Tegbe at a media chat in Lagos.
By JONAH NWOKPOKU
Nigeria may be in for tougher times as foreign investors are beginning to shift their attention to Ethiopia as a preferred investment decision.
This was indicated by the buzz at the just concluded World Economic Forum on Africa, an annual summit of the continent's rich and powerful, which was all about Ethiopia, where the economy is flourishing and the government is embracing select foreign capital.
Executives from General Electric Co., Dow Chemical Co., Standard Bank Group Ltd. and MasterCard Inc. attending the gathering in Cape Town were reported to have all singled out the East African nation as a market with strong potential.
Ethiopia was Africa's eighth-largest recipient of foreign direct investment last year, up from 14th position in 2013, a report released by accounting firm, Ernst & Young showed. The number of projects in Ethiopia surged 88 percent, the most of all countries ranked, while those in Nigeria slumped 17 percent.
"It's got a government that is managing economic development in a very deliberate, cautious manner. It's the second-most populous country in Africa. It hasn't urbanized like other African countries, but it's going to. It's a very exciting place," Ross McLean, Dow's president for sub-Saharan Africa, told the media in an interview last week.
Ethiopia's economy is expected to expand 8.6 percent this year and 8.5 percent in 2016, compared with 10.3 percent growth last year, the International Monetary Fund said in its World Economic Outlook released on April 14. Nigeria, which has Africa's largest economy and is grappling insecurity coupled with energy shortages and the fallout of an oil price slump, is forecast to grow 4.8 percent this year and 5 percent next year.
Recall that at that meeting, Nigeria's former Finance Minister, Ngozi Okonjo-Iweala said her successor will face a "difficult" year because of plunging oil revenues and that the economy needs expert management to weather the storm.
"We have a serious situation with a cash crunch. But fundamentally, the economy is strong. If we can get through the cash crunch, manage the way through, build on some of the assets we have, by next year, things will be better."
She added: "The next finance minister needs to focus on a strong policy, the fiscal consolidation path that we have and looking toward diversification of revenue resources.