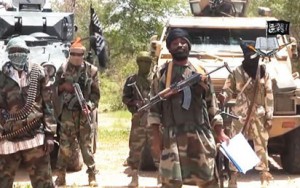 The base of a multi-national military offensive against Boko Haram will cost some $30 million over the next year, the head of a regional security grouping said Wednesday in Nigeria, appealing for help.
His comments came as defence ministers and military chiefs from Nigeria, Chad, Niger, Cameroon and Benin — which will contribute military personnel, police and civilians to the so-called Multi-national Joint Task Force (MNJTF) — met in Abuja to thrash out plans to take on the militants.
Nigeria's new President Muhammadu Buhari has made stopping Boko Haram's bloody, six-year insurgency a top priority, and on Thursday he will meet with his regional counterparts in a high-level summit on the issue in the Nigerian capital.
"The total amount required to set up and sustain the MNJTF headquarters for the next 12 months is about $30 million (27 million euros)," said Sanusi Imran Abdullahi, head of the Lake Chad Basin Commission security grouping that includes Nigeria and nearby countries.
"The troop-contributing countries are responsible for equipping and sustenance of their battalion." The long-awaited task force, which has its headquarters in Chad's capital N'Djamena under a senior Nigerian officer, was originally due to have been operational in November. In the meantime, troops from Nigeria, Chad, Niger and Cameroon have been fighting Boko Haram insurgents in northeast Nigeria for several months and have claimed a series of successes.
But since Buhari took office on May 29, Boko Haram attacks have risen with 12 recorded and a total of 109 people killed, according to AFP reporting. Abdullahi said it was crucial to quickly deploy the force to "sustain the offensive on the Boko Haram terrorist group who should not be given the time and space to regroup, as this may constitute a much more potent threat than we witnessed." He appealed to other regional groupings to contribute resources to help fight the insurgency, which has left at least 15,000 people dead.