By Chimdi Maduagwu
I am bold to say that this is a season of hope for Nigeria. There are high expectations at the Federal, State and even Local Government levels following the just concluded general elections. While the APC led federal administration has made it clear to the citizens of this country that it is "baking" sweeping changes which are expected to pop out of the oven soon, some states are quite skeptical about the new wave.
Their skepticism is based on antecedents. Although many state governors have also harped on their avowed intention to actualize election promises, their citizens do not seem to be sure they believe them. One clear case is Abia State.
Abia had a very turbulent governorship election. The campaigns were unpleasant and at certain points, repugnant to the sense of aesthetics of the average human being. There were threats and counter threats, verbal and physical violence and abuses of all kinds. At the end, the Okezie Ikpeazu led PDP emerged victorious. Okezie Ikpeazu is a typical Aba boy, but has always remained quiet and unassuming. His posture as a man of little words and somehow "more of action," leaves room for suspicion as to whether or not he will be able to pull through the hopes of his people.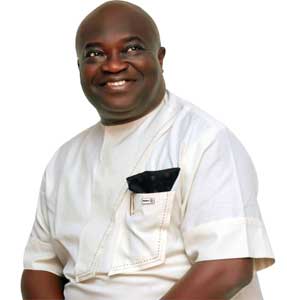 But that is not the major issue; the point is that it appears that precedence has been set in the state. For the past 16 years, the PDP has dominated the affairs of the state and again, it's PDP, so the fear of whether or not there will be meaningful changes is rife. At the turn of the present democratic dispensation, after the long military experience, Governor Orji Uzor kalu got the mandate of the people.
I suppose, his major task should have been to realign the citizen to the new democratic consciousness. So it should have been for all other officials of that era. Whether or not they carried out this simple task, will soon be determined by history, but I will say that a number of people either deliberately or inadvertently distracted them so they never really focused on the main issue. One thing that people need to understand is that whether it is 4 or 8 years that an elected politician has to lead his people, that it is a very short time in the life of a people (of a local government, state or country) so it will be extremely unusual to expect a leader to pull a magic wand and conjure developmental desires of everybody into being. We have made this mistake for a long time and it is time now to rethink.
What do people of Abia expect Dr. Okezie Ikpeazu to do? This question should be broached against the background of what he expects to do for his people. Again, the second question is tied to yet another, what his party is expected to do for the state. Ultimately, however, the three questions will be brought under the glaring logic of what can be done … given the available time and resources … by the government for the people. Finally on the myriad of questions, one is outstanding: who sets the agenda for the work plan? This is democracy; the government of the people for the people and by the people.
Dr. Ikpeazu has just become a governor, for the first time, a position that does not require, in the strict sense of it, previous experience. In fact, previous experience disqualifies. He no doubt, has his own agenda. He is a product of party politics, and his party must also have its agenda. He is from a certain community and that community has its own agenda, he is supposedly elected by all eligible voter of the state (by popular votes ratio), so now all other communities equally will set their own agenda since he now belongs to all; all these point back to the underlying factor of "what can be done" within the orbit of possibilities (time and resources). I believe one can argue that only the Messiah, Jesus of Nazareth has been able to feed five thousand people with five loaves of bread and three pieces of fish.
Let me get back to what I am talking about. Not too long ago, I was in Abia. Umuahia was good. The roads are in view, that is either they are receiving attention or about to. Then on my way to Uzoakoli, I lost it all. I could not believe that people lived there in a modern democracy because even the cyclist is unable to navigate properly. Now what can Dr. Ikpeazu do? You may reply, a lot. Dr. Ikpeazu is faced with the repairs of dilapidated infrastructures and more so provision of more amenities for the people of the state. After I returned from that trip, I started ruminating on Abia state.
Quite frankly, was Abia not the Taiwan of Africa? What has happened to the "Aba made" syndrome? Long before both India and even China emerged at the global level, Aba had penetrated the manufacturing endeavours of humanity. I agree that the products, then, were crude and sub-standard, but the important point is that there was production. One wonders today what actually has happened to the clothing industry, the shoes, bags and even cosmetics of Aba. The way Aba was going soon after the civil war and into the later 1970s and 1980s; she should have been at par with India and China today.
Now I ask, what can be done? Dr. Ikpeazu started by acknowledging the presence of thousands of local shoe makers, dress makers and bag makers. He has promised to give them both national and global visibility. How does he do this? I am not in the business of "agenda setting," however, one will expect that Governor Ikpeazu will start immediately with a correct statistical record of the artisans and further that with provision of support, in terms of infrastructure and funding.
While the governor is building up the manufacturing sector in Abia, let him also remember to carry along the commercial and other support areas. There is much to talk about as the beat goes on. Let me conclude this time by calling attention of the authorities to the greatness of Abia state and her potential as the catalyst to Nigerian industrialization. What has happened to the great Golden Guinea Breweries? What about the Modern Ceramics Industry … in this era of ceramic and other forms of tiles for construction …? What about the Aba Textile mills? If my memory serves me right, there used to be the "Uzu" culture, especially blacksmithing, which Onwuka Kalu popularized.
What about that. Dr. Ikpeazu has some tasks ahead of him. The interesting thing is that he has the acumen, the energy and the training to accomplish them. He is a scientist, an academic, an administrator (I mean technocrat) and also a politician. He is everything a people may wish to ask for in leadership. I am sure he will not follow precedence. He is intelligent enough to carve his own niche. His antecedent speaks for him. Eyes are on him now, but how about the people. An advice to them: do give him a chance to do at least something within the time God has given to him.