By Awa Kalu
For those who do not understand the Igbo language, 'Amaechi' is a rhetorical question which clearly shows that mankind is neither omnipotent nor omniscient. It is, I believe, the shortened form of the more prominent question, 'Onyemaechi', literally translated as 'who knows tomorrow'; who can foretell the future? Is anyone clairvoyant and so on.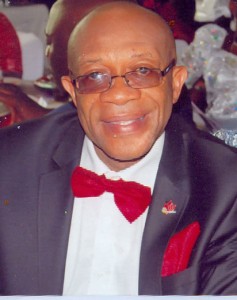 For those who think that there is nothing in a name, the events of the last few days in the life of the late Dr. Amaechi Nwaiwu, SAN, FCIArb., leaves us with a lot of food for thought.
I can personally confirm that Amaechi was at the Abia State Governorship Election Petition Tribunal on Thursday, June 11, together with Chief Akin Olujimi, SAN, Chief Rotimi Akeredolu SAN, Rickey Tarfa Esq., SAN, Chief Chris Uche, SAN, Livy Uzokwu SAN and a host of other illustrious Legal Practitioners who appeared on either side of the divide.
The atmosphere was cordial. Amaechi arrived in court slightly late when the tribunal was in session and because of the number of senior counsel in the packed tribunal, there was no seat for him. I saw a rickety chair in the dock and I teased Amaechi 'to enter the dock'.
As usual, he laughed from the depths and a Registrar brought out the chair and he took his seat with characteristic humility. The proceedings continued, in the course of which the equally humorous Tribunal Chairman noted the eminence of the Learned Counsel in attendance and told Amaechi that he was pleased with the appearance of several Doctors. He quipped: "I like it, 'You learn and I learn."
After the matter which brought us to the tribunal had been adjourned, all of us, counsel and litigants alike – trooped outside where we exchanged pleasantries. Nothing unseemly showed on Amaechi's face. Amaechi? We all went our different ways and many travelled to their respective destinations.
The demise
On Sunday, June 14, I got a terse text message from Chief Joe-Kyari Gadzama SAN, at 16:12pm which said: "Just to whisper to you sad news We lost Amaechi today." My reply was prompt –'which Amaechi', and the immediate response was 'Nwaiwu SAN'. The phone thereafter rang endlessly. The other Amaechi, Okey Amaechi Esq., SAN, called to inquire if anything was amiss with his namesake, Amaechi Nwaiwu.
J.T.U Nnodum Esq., SAN confirmed to me that he heard first hand from C. Ekomaru SAN that what seemed untrue was indeed true. Professor Ernest Ojukwu, SAN informed me that he travelled in company of Amaechi and Ekomaru from Ibadan on Saturday, June 13, where they attended the wedding of Chief Niyi Akintola SAN's daughter from which Amaechi returned to Owerri – the city in which he established his primary domain over the years.
Who would have thought that a thoroughbred gentleman who travelled the length and breadth of Southern Nigeria in so short a time, servicing legal and social responsibilities would be diminished by death even without notice to anyone – family, colleagues, associates and friends?
On a lighter note, having been in the company of his very learned colleagues in the last three days of his life, how come a quai timet injunction did not issue to restrain death from overpowering a solid and well-read Lawyer like Amaechi? Onyemaechi?
The man, Amaechi
Amaechi was born a few months before Nigeria gained its Independence in October, 1960. His primary school education was in well appointed schools in Aba, Umuahia and Enugu.
In his secondary school days, he attended the very well known Methodist College, Uzuakoli and the Government Secondary School, Owerri, from which he obtained his West African School Certificate in flying colours in 1978. His pre-university exposure was at the Federal School of Arts and Science, Aba and it was from that institution that he proceeded to the University of Nigeria, Nsukka.
He graduated from the Nigerian Law School, Lagos in 1985 but his quest for self development saw him earn an LL.M from the Abia State University, Uturu, in 1999 and then a Doctor of Philosophy, Ph.D, from the 'den of lions', the University of Nigeria, in 2011. His career trajectory has been nothing but brilliant. His Master of Laws (LL.M) Degree was in Environment and Energy Law while his doctorate endeavor focused on Human Rights and Compensation Law.
As a consummate bar man, he sustained his membership in the Nigerian Bar Association, the International Bar Association and the Commonwealth Bar Association.
He was a Fellow of the Chartered Institute of Arbitration and established himself not just as a celebrated and dogged litigator but as a lover of alternative dispute resolution opportunities! His love for his profession was evident during his years of service as the Financial Secretary and later, as Secretary of the Nigerian Bar Association (NBA) Owerri branch, from 1987 to 2005.
As a man who loved humanity, he was the secretary of the Rotary Club of Aladinma, Owerri branch, from 1990 to 1995. His Curriculum Vitae is littered with information concerning his service to the Methodist Church community (up to Arch- Diocesan level), an avalanche of traditional titles and honours from different segments of society including the order of Knighthood of John Wesley (KJW) conferred on him in 2006 by the Methodist Church, Nigeria.
At only 54 years of age (he would have clocked 55 on July 26, 2015), who knows what Amaechi would have become had death not whisked him away so suddenly on that faithful Sunday? Amaechi? Certainly, to die on a Sunday and from church, tells the story of a man who loved God and was in turn loved by God.
It can only remind us of the Hymn by Horatius Bonar, of Edinburgh, 'penned in 1870, set to music in 1891 and sung as a solo in the Tabernacle in London' by Ira D. Sankey at the funeral of her friend, the great Preacher, C.H Spurgeon. The title of the hymn, 'Only Remembered', is instructive to the living and emphasizes that we shall all pass "from the earth and its toiling, only remembered by what we have done".
Will Dr. Amaechi Nwaiwu, SAN, FCIArb, be remembered by what he had done? That is certain, for, on Tuesday, 16th June, 2015, powerful.
delegation of Abuja based Lawyers led by Chief Joe-Kyari Gadzama, SAN, and accompanied by my humble self, K.T Turaki SAN (Former Minister of Special Duties), Chief Solo Akuma, SAN, Chief Tawo Tawo, SAN, Senator Abubakar Sodangi, the Chairman of NBA, Agada Elachi (Unity Bar), Mrs. Betty Umegbulem ( of the FCDA Legal Department) and several others paid a condolence visit to late Amaechi's Chambers in Abuja. After prayers were said in the office, silence was maintained at his residence and in absolute solemnity, the lawyers dispersed.
The take-away from the gathering at his office is the acknowledgement that he was friendly and humble, amiable, loyal and self-effacing. He respected himself and extended respect to all those he came in contact with. He was neither noisy nor brash but mixed his cordiality with a hilarious presence. How then can he be forgotten?
Amaechi will best be remembered by his loving wife, Chief (Mrs) Blessing Nkechi Nwaiwu and the children on whom he doted all through his lifetime. He would be remembered because he loved listening to 'music from Masters' and vibrant Gospel Music.
Amaechi will be remembered because the name 'Amaechi' will not let anyone forget that 'tomorrow' is not forgettable. It can bring with it anything. Amaechi, friend to many, foe to none, religious, faithful, core professional, and lover of humanity, Adieu!
Subscribe for latest Videos