By Florence Amagiya
Loretta Alao has more than fifteen years working experience in Brand Marketing and Public Relations. Her case is a testimony of how integrity and hard work can pay off, when God is in the middle of it.   She is the Vice President of FRYDA Limited.  She had previously served as a Senior Vice President of Brand marketing for a top organization.  Today, she tells a successful story of being a wife and business woman even as she battled and survived cancer. In this chat with FLORENCE AMAGIYA, she tells more. 
Read on…
Tell us about your business?
By the God's grace, I am the vice President of FRYDA Nigeria Limited who partners and sponsor, where we have successfully implemented a company turn-around and launched several innovative marketing programmes. At FRYDA, we have a multiple strategic Brand Teams that oversee marketing, communications, research and development, training, supply chain, customer service and operations. I have previously served as a Senior Vice President of Brand Marketing for a firm which has managed project for numerous Oil and Gas firms and major Telecommunication outfits.
Did your childhood influence the business you chose?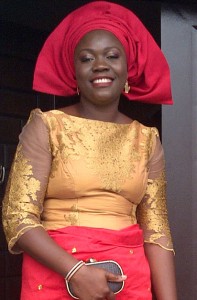 My childhood wasn't really an interesting one like most people would have thought. I was only seven years old when I adopted the role of a parent to my six older cousins and other six younger cousins at my aunt's house with their bedridden father that I had to take care of before going to school daily. I would walk several kilometres to School and back. I attended Ideal Primary School at Falolu and later attended Ideal Girls Secondary School in Randu Avenue all in Surulere.
While assisting my family I didn't waste any spare time for my books.  I left Secondary school at age 15 in 1989 and enrolled into a private college for preparatory studies for tertiary education in 1990. I read Accounting at Ado Ekiti University and had my Masters in the United Kingdom. So, to that extent, I would say my childhood had a great influence on my business.
As a business woman, what projects have you delved into?
It is very difficult to catch a break because there are too many ideas around. No one is willing to lose anything important and have to reinvest time and again. We have handled projects and consulted for some reputable Oil and Gas firms and other organizations. We also run strategic design, development and employment, stakeholders' engagement, consultancy and project management.  We have also represented some telecommunications companies in Nigeria.
Giving back to the society………
As give- back to the society, at FRYDA, we have set up a foundation to challenge the intellect of the students in their formative years after a researched work. As it is, I am a product of public school and over the years, I have realized that the standard of education is low. And this is due to the lack of skill and resources. Attention is not being paid to the quality of the education structure and delivery. In a society where most parents have handed their responsibility to the schools, it becomes overwhelmingly difficult for teachers to cater for the huge number of students.
So after so much planning and research, I discovered that the public schools can get back what was lost if the students can have intellectual challenge added to the curriculum. That birthed the competition known as Scrabblulympic in Lagos Public schools. The game creates a bond, challenges your intellectual capacity and so much more. Scrabble is a healthy game of rivalry. I wanted to give something back to the society through the passion I have developed with my husband.
FRYDA has involved over a thousand children in public Schools by the last scrabbulympics competition which held in 2013; the winners of the competitions from public Schools were taken abroad as part of the prices given to the students. Some of the winners won car gifts, buses, generators, lap tops, computer games and so much more. But last year, scrabbulympics couldn't hold in Lagos state as scheduled because of the Ebola outbreak, but it is holding this year by God's grace.
Combining personal life and home front………
I met the young man I got married to when I was only a teenager. Today, we are happily married with three beautiful children. For fun, my husband and I play scrabble and of course we have also introduced the game to our children. We saw the way it has affected our children positively hence we decided to introduce it to public schools to add to their curriculum. For the three years of its existence; it has been worth it, we have seen children give all they can to play and win the game with the prices that goes with it. Of this we are impressed with how far some schools go to prepare their children for it.
How do you encourage intellectual growth among public school students?
First and foremost I am a great fan of scrabble; my husband and I play this game all the time. It is a game that improves the mind and the intellect. Scrabbulympics was birthed when l was going through a crisis in my life. About six year ago, I noticed l was very sick and found out that l had cancer. It became so bad that l thought l was going to die.
Meanwhile I have three young children; l wondered how they would cope if l am not able to fight the sickness. So l decided to do something to keep the children happy and decided to introduce the game and competition to public schools since my husband and I are products of public schools. As grace would have it, God saw me through the chemotherapy that I went through. Today l am back on my feet and the competition has come to stay.