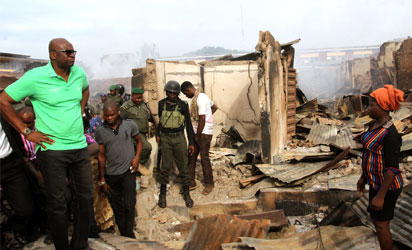 Ekiti State Governor, Mr. Ayodele Fayose, inspects the Oja Oba market in Ado-Ekiti torched hoodlums on Friday
As Fayose relocates Hausa community
By Gbenga Ariyibi
It all started as a minor argument between two persons, but later degenerated into a free-for-all which lasted for three consecutive days.
The face-off was between members of road transport workers and some traders of northern extraction in Ado Ekiti.
The resulting pandemonium crippled social and commercial activities in the town.
Worst hit were the biggest market in the town, known as Oja'ba  and Atikankan where most of the Hausa reside.
The development led to the destruction of goods and properties worth millions of naira, while no fewer than 10 persons from both sides were said to have sustained various degree of injuries.
Trouble was said to have started in the night of Tuesday when the wife of one of the leaders of road transport workers was allegedly molested.
Her bag which was alleged to have contained an undisclosed amount of money reportedly got missing in the process.
Cases of harassment of women and   bag snatching   had become a daily occurrence in the area.
It was learnt that an attempt by the enraged husband of the victim and his followers to find out who actually harassed his wife led into a fist- cuff.
Further investigation by Vanguard showed that about five vehicles belonging to the drivers were vandalized, while close to 15 houses and offices occupied by the Hausa were razed.
The development provided an opportunity for some cutlass wielding hoodlums to break into shops and cart away goods belonging to Hausa traders.
It took the personal intervention of the Ewi of Ado Ekiti,Oba Rufus Adejugbe and the new Police Commissioner in the state , Mr. Etop  James to bring sanity to the troubled community.
They led scores of regular and mobile police  men  to the spots to avert further break down of law and order.
It was however gathered that the traders, who lost their goods, have vowed to carry out a reprisal attack.
Claims that there were casualties, were dismissed by the state police command.
According to the Police image maker, Mr. Alberto Adeyemi , no one died as a result of the violence.
He said: "Nobody died in the incident contrary to reports, only two persons sustained pellet wounds while 22 others sustained various degrees of injuries. All the injured were taken to Police clinic in Ado-Ekiti where they are responding to treatment."
Adeyemi urged the residents to go about their lawful businesses, adding that security arrangement had been made to forestall a recurrence.
To forestall another crisis, the state government promptly evacuated the Hausa community from Atikankan  to Shasha, Ikere Road pending the return of normalcy.
The three -day curfew imposed by the state governor, Mr Ayo Fayose following the crisis has been lifted.