I HAVE a burden in my spirit after the death of Comrade Uche Chukwumerije, erstwhile Secretary of Information under the Interim National Government, ING. I find the passing of Comrade Chukwumerije very painful to bear. Not that he was too young to die, but that he was too good to depart at this time.
However, when I read the column of Professor Olatunji Dare in The Nation of Tuesday, April 28, 2015 entitled: "Remembering Uche Chukwumerije", the burden I bore since April 19, 2015 when he died was lifted.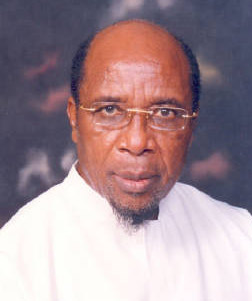 I was a correspondent of the Voice of Nigeria reporting activities at the Aso Rock Presidential Villa when Chief Chukwumerije was appointed first into the cabinet of Gen. Ibrahim Babangida in early 1993 as Information Secretary and later as member of the ING under Chief Ernest Shonekan.   In Prof. Dare's column, he had relayed a private conversation between himself and Comrade Chukwumerije to the effect that he believed Gen. Babangida would not perpetuate his tenure longer than August 27, 1993 and that should he (IBB) failed to keep his promise, he (Chukwumerije) would resign. I now know better.
This is because soon after the suspension of the collation of results by Prof. Humphrey Nwosu's National Electoral Commission following the June 12, 1993 elections, Comrade Chukwumerije had briefed State House Correspondents to the effect that the ''issues relating to the elections would soon be amicably resolved and that a democratically elected government installed''. However, in the morning of June 23, 1993 when the election results were annulled, many of us (reporters) were shocked and confused. I recalled meeting Comrade Chukwumerije at the access point to the inner chambers of the Aso Rock and tried to get his reaction on the annulment. What I found was most shocking! The Secretary of Information was not aware of the annulment.
When I restated the fact that the annulment was announced by Chief Nduka Irabor, then Chief Press Secretary to the Vice President, Augustus Aikhomu, Comrade Chukwumerije was more angered. He stormed out of my presence to the office of Chief Duro Onabule, the Chief Press Secretary to President Babangida, and complained bitterly about the development. He wondered why the election results were annulled in spite of the re-assurances he gave the media few days before the incident of June 23, 1993. He threatened to resign.
Chief Onabule expressed same sad feelings about the annulment insisting that he would appreciate it if Gen. Babangida left office without such unnecessary controversy occasioned by the annulment. Before some journalists , Chief Onabule advised Comrade Chukwumerije not to resign. ''You can't abandon ship at this stage. We are all in it together. If you take such drastic step, your resignation may be misinterpreted,'' Onabule advised. Comrade Chukwumerije was now to battle the aftermath of the June 12 annulment as if he was part of the plan. A burden, he revealed, was painful.
I also recalled a unique discussion between Chief MKO Abiola, Comrade Chukwumerije and Chief Onabule at the presidential villa one afternoon. As a usual practice, whenever Chief MKO Abiola visited the Aso Rock Villa, he paid a courtesy call on Chief Onabule at his office. On this occasion, Chief Abiola met Comrade Chukwumerije at Onabule's outer office and said: ''Comrade, In Sha Allah, in my government, you shall get a prominent role''. ''Hahaha, no, no, Chief, I shall not be part of a bourgeois government under your leadership'', Chukwumerije retorted. ''You got it wrong; I am a man from a very humble background. It's just that when I hear the tinkling of coins at a distance, I go after them,'' Chief Abiola countered. Chief Abiola further said of Chief Chukwumerije: "Comrade, I know for a fact that when you are given any assignment, you do it to the best of your ability''. They all laughed. That was the kind of frankness with which Comrade Chukwumerije was imbued.   He would ask for divergent opinion on issues before aligning his thoughts. However, once those thoughts are made, he stuck to them. A very reliable person who courted my friendship as if we belonged to the same generation.
Comrade Chukwumerije would always draft press releases by himself. I learnt a lot from his skills in communicating difficult tasks. He never wrote more than a page of press statement, noting that the language must the succinct and straight to the point.
In this era where politics has polarised the nation on ethnic lining, Comrade Chukwumerije would remain a detribalised Nigerian. For instance, he was instrumental to my quick rise in career at the Voice of Nigeria. At the heat of the June 12 crisis, I had engaged a delegation of traditional rulers in an interview where the Ooni of Ife, Oba Okunade Sijuade, had briefed State House Correspondents. On that occasion, I asked some questions which espoused what the Babangida administration wanted to hear as feedback from traditional rulers in justification for the June 12 debauchery. Thereafter, I was approached by Comrade Chukwumerije who commended my interview skills and thereafter began to ask me some questions about my career. The aftermath led to my being promoted to the position of Principal Reporter.
Indeed, Senator Chukwumerije gave Nigeria his best in all capacities he served. He was thorough and ardently consistent, easy-going, soft-spoken, highly cerebral, quick-witted and compassionate. I doff my hat for a gentleman to the core. May God bless his soul and grant him eternal peace.
Comrade, on that occasion, went to Chief Onabule and declared '' I have recognized a journalist who has a strong passion for the profession''. ''Who are you referring to'', asked Chief Onabule. ''He is Yemi Fakayejo, of VON. I need to support his elevation more so when his DG, Alhaji YayaAbubukar already showed interest in him''. Chief Onabule, I later understood, had made a passionate appeal for the elevation of another senior reporter of the Igbo genre then reporting for Radio Nigeria. That was how both of us got the Chukwumerijie largesse on a platter of gold.
On the religious side, Comrade Chukwumerijie puts God first in all his activities. I recalled sometimes in September, 1993 when Pastor E.A. Adeboye came to Abuja for a crusade. Comrade Chukwumerijie had requested I see him at his residence that evening. When I got to his house and after a while I told him I would like to attend the RCCG crusade, Comrade by his kind words indirectly introduced Pastor Adeboye to me. ''If you stay with him for 15 minutes, your life would never be the same again. That is a real man of God'', he enthused. It was the first time I would be told about the General Overseer. Comrade had wanted me to meet with Daddy GO and book an appointment to see him but after a while he changed his mind and said '' If I go to see Pastor Adeboye at the crusade, the headlines in the newspapers tomorrow would be CHUKWUMERIJIE TURNS BORN-AGAIN, CHUKWUMERIJIE NOW REPENTS''. As he cast the headlines, we laughed ecstatically and I could feel the quintessential journalist in him.
I didn't get to meet Comrade Chukwumerijie again until sometimes in 2011 when I went with a colleague to discuss the fiscal aspect of the Petroleum Industry Bill (PIB). He was very attentive and asked salient questions on the prospect for the oil & gas industry, even though he heads the Committee on Education. Comrade provided an all-round understanding of the bill and stressed the need to balance Government's will for more revenue with the desire to increase profitability of the operators in a competitive environment.
Indeed, Senator Chukwumerijie gave Nigeria is best in all capacities he served. He was thorough and ardently consistent, easy-going, soft-spoken, highly cerebral, quick-witted and compassionate. I doff my hat for a gentleman to the core. May God bless his soul and grant him eternal peace.
Mr. Yemi Fakayejo, a lawyer, wrote from  Port Harcourt, Rivers State.
Subscribe for latest Videos