BY NDAHI MARAMA, MAIDUGURI
At least 60 people mostly suspected members of dreaded Boko Haram insurgents were feared dead in a clash between troops of the 7 Division, Nigerian Army around Kayamula village, just some few kilometres drive from 21 Armoured Brigade (Giwa Barracks) on Wednesday in Maiduguri, the Borno state capital.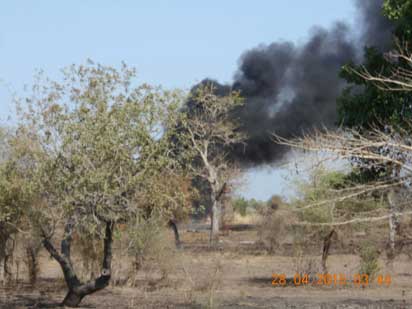 Already, troops of the 7 Division, Nigerian Army on Thursday morning imposed a 24 hours curfew on the troubled city.
The imposition of the 24 hours curfew was contained in a statement signed by Colonel Tukur Gusau, the Deputy Director Army Public Relations
Gusau said "In view of the recent development within Maiduguri metropolis a 24 hour curfew is hearby imposed in the city. This is done to protect lives and property of innocent and law abiding people of maiduguri".
Sources said, the attack was launched by suspected members of Boko Haram terrorists who attempted to invade the city with heavy weapons of mass destruction targeting military formations including 21 Armoured Brigade (Giwa Barracks) that came under deadly attacks last year.
A student at the University of Maiduguri (name withheld) for security reasons said, many stray bullets entered hostels injuring of two students.
Kayamula village of Konduga local government area of the state is south and about 20km drive from Maiduguri which has suffered series of deadly attacks by terrorists in the past. The village which is an agrarian community with a lot of Cashew plantations is a stone -throw to Giwa barracks.
Reliable sources revealed that, "35 members of the terrorists including women suicide bombers were killed by troops, while 27 residents near Kayamula and Alau Dam villages were slaughtered by insurgents after they were repelled and chased away by troops".
A resident, Mallam Abba Alau who participated in the mass burial of the slain residents by insurgents said, "we were able to bury our 27 people who were slaughtered by terrorists while fleeing but ran into our community and wrecked havoc before heading towards Sambisa Forest on Wednesday night".
Another source said, "no fewer than three security operatives were killed, with others injured when some women suicide bombers who disguised as fleeing residents of Bale village near Kayamula detonated their explosives near troops during operation.
Also, another dependable source told our Correspondent that the imposition of 24 hours curfew on Maiduguri and its environs by troops on Thursday morning was to allow security operatives trail and apprehend scores of suicide bombers, mostly women terrorists who sneaked into Maiduguri to cause havoc on residents.
"The curfew was declared because during the operation, many insurgents found at the scene of the attack had Improvised Explosive Devices (IEDs) tied to their bodies, and that security agencies suspected that some of them might have sneaked into Maiduguri city and nobody wants to take chances", the source stated.