By Favour Nnabugwu
Micro, Small and Medium Enterprises (MSMEs) in the country have employed 60 million people from a total number of 37 million MSMEs according to the Minister of Trade, Industry and Trade, Dr Olusegun Aganga. He said the MSMEs currently accounts for 48 percent of the nation's Gross Domestic Products (GDP),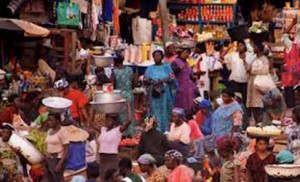 Aganga, who unveiled the public presentation of the new National Policy on MSMEs and the results of the 2013 National MSMEs Survey in Abuja said the policy is aimed at improving the ability of Nigeria's MSMEs to compete effectively in local, regional and global markets.
"The reversed national policy served as another direct intervention of this administration to cultivate micro, small and medium enterprises, thereby increasing their contribution to GDP growth which is roughly about 48 percent today".
"The National MSME Policy envisions an MSME sub-sector that can deliver maximum benefits of employment generation, wealth creation, poverty reduction and growth to the Nigerian economy. This is because everywhere in the world, MSMEs are the biggest employers of labour." he said.
The new MSMEs policy and the 2013 National MSMEs survey conducted by the Small and Medium Enterprises Development Agency of Nigeria (SMEDAN) in collaboration with National Bureau of Statistics (NBS) also outlined the general parameters, benchmarks and directions within which MSMEs' programmes, interventions and initiatives will be designed, implemented, monitored and evaluated.
The Minister said the federal government is surprised to find that a substantial number of all the businesses operating in the country under the SMEs umbrella are in fact, micro enterprises, stressing that the findings should influence the way policies driving the sector are being crafted and implemented.
"MSMEs are globally regarded as the backbone of any economy. MSMEs contribute to improved living standards. They bring about substantial local capital formation and help in achieving high level of productivity and capability." He continued, "They have also been identified as a vehicle for employment generation and providing opportunities for entrepreneurial sourcing, training, development and empowerment."
Subscribe for latest Videos