By Vincent Ujumadu & Enyim Enyim
Awka—AUTHORITIES of Nnamdi Azikiwe University, Awka yesterday accused those who vied for positions and lost in the institution and others allegedly facing disciplinary actions of trying to cause confusion in the university, using the president of the Students Union Government, SUG.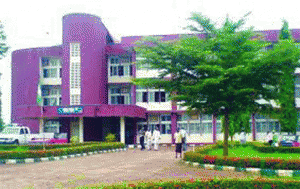 This came on a day the students' union government of the university dissociated itself from the online and newspaper publications credited to the president of the union, Mr Noble Eyisi, who alleged that the authorities of the institution were extorting money from students without reason.
The SUG president, Mr. Noble Eyisi, had last week written the vice chancellor of the university, Professor Joseph Ahaneku, querying the rationale behind the increase in post-UME test fee from N1,000 to N2,000 and another N7,500 paid by students for biometric data capturing, which he said, amounted to N45 million.
Addressing reporters yesterday, the institution's Director of Communication, Mr. Emma Ojukwu, said apart from being sponsored, the SUG president was facing impeachment process, which he wanted the management of the university to intervene, but was told that the school authorities had no power to do so.
According to Ojukwu, Eyisi has no right to protest for those who are not yet students. He questioned the rationale for his questioning the school authorities as though they were accountable to him. "The issues he raised clearly showed that he was sponsored to destabilise the university," Ojukwu said.
Meanwhile, seven members of the SUG, including the vice-president, Mr. Precious Oazems, have distanced themselves from the action of the SUG president, saying that it amounted to a distraction to delay his impeachment which was already in progress.
According to the SUG officials, the management of the university had no hand in the impeachment process against Eyisi, adding that it was   due to his flagrant abuse of office, including refusing to attend the executive meetings.