BY KINGSLEY OMONOBI
ABUJA – The Defence headquarters disclosed, Thursday, that the plot by Boko Haram terrorists to use two female suicide bombers to cause havoc in Maiduguri was foiled by troops who successfully dislodged the terrorists.
Security sources said the band of terrorists detonated two female suicide bombers ahead of their attack on Ladi Kayamla near Maiduguri on Wednesday with a plan to follow up with an attack but were swiftly routed by the Nigerian troops in the area.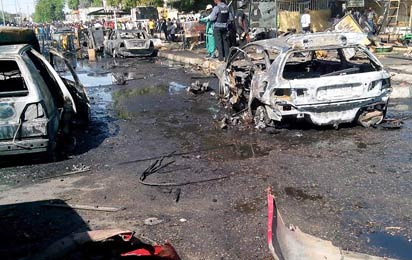 The attack which was apparently diversionary with the intention of slowing down the ongoing assault on Sambisa forest is believed to have been carried out by those escaping from the terrorist's locations that have been routed or destroyed.
The Director Defence Information, Major General Chris Olukolade while confirming the incident stated that normalcy has been restored as the troops conduct mopping up of the area.
He emphasized that the offensive to clear the terrorist's and their camps from all the Sambisa forest locations will continue.