By Simon Ebegbulem, Benin City
Governor Adams Oshiomhole of Edo State yesterday said his brother Governors nor call him the 'Okpekpe marathon man' because of his participation in the annual 10-km IAAF certified Okpekpe race.
Speaking yesterday during the visit of the Chairman, Organising Committee of the 10-km Okpekpe race, Mr Dan Ngerem and other members which included Chief Mike Itemuagbor, among others, Oshiomhole said he loves it when he is called the 'Okpekpe marathon man' by his brother Governors because it shows the government's investment in road infrastructure in Okpekpe is not a waste.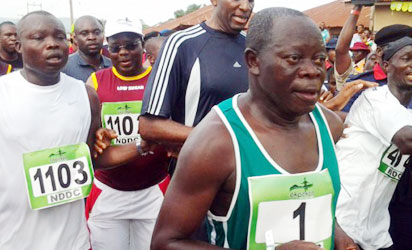 According to him, his conviction to open up and expose rural areas to the same opportunities found in the urban cities motivated his administration to embark on aggressive rural road infrastructure.
He said, "the most eloquent and the most potent statement we can make is to aggressively invest in rural infrastructure because our people do not ask us to give them food to eat, they just ask us to give the enabling environment for them to apply their intellect, their energy, their creativity so that at least, every two hands can feed every one mouth."
Oshiomhole continued, "The Okpekpe road compares very well and even better with federal roads based on specification, design and even the width of the road because for me, to be rural is not to be inferior and therefore standard should be the same. I do not subscribe to some specification for rural roads another specification for urban roads.
"Your federation adopting the Okpekpe race which is a wonderful initiative is a blessing and thus confirmed that we were right. One of the things I have been accused of since coming here is that I have spent resources of states in building roads that leads to hamlets and I did say that I have no apologies, Nigeria is a collection of hamlets and Presidents after Presidents have come from Hamlet and this governor comes from a Hamlet.
"To come from a hamlet is not to be inferior. I am so happy that this is happening and even happier when I hear people talking about Okpekpe and even myself from my previous participation in the marathon, my brother governors refer to me as the 'Okpekpe Marathon man' and I enjoy it.
Chairman of the Organising committee, Mr Dan Ngerem, who presented a copy of the Bronze label Certificate awarded by the International Amateur Athletics Federation (IAAF) for the Okpekpe race to Governor Oshiomhole said the Governor's infrastructural development has exposed Okpekpe to the international community.
According to Ngerem, athletes from over fifteen countries will participate in this year's edition of the race.
He said: "the first time I came here, it took us about 2 to 3 hours to get to Okpekpe from Auchi but when I came for the first edition of the Okpekpe Marathon Race, it took us about 10 to 15 minutes to get there. That was a shocker to me. For me this underscores the relevance of good governance.
"The most important of all for me is Edo State being exposed internationally and opening Okpekpe to the international world. If you check on Okpekpe on the net, the hits will be more than many big cities in Nigeria simply because Government has sort of harnessed the power of sports to leverage Okpekpe and leverage Edo State."
Ngerem said this year's 10-km Okpekpe race will be beamed live on television and will attract participants from 15 Countries across the globe.