By Florence Amagiya
His Excellency, Dr Ifeanyi OKOWA, was born into a humble and dedicated Christian family from Owa-Alero in Ika North-East LGA of Delta State, 54 years ago, on 8th July, 1959. He cut his first educational tooth at the Iroro Primary School, Owa-Alero, and later attended the famous Edo College, Benin City, between 1970 and 1976. Okowa graduated with the second best result in the Higher School Certificate Examination in the then Bendel State.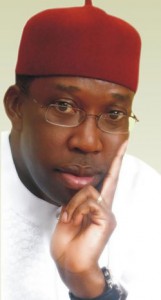 Thereafter, he went further to study medicine and surgery at the University of Ibadan, Oyo state. Young Ifeanyi Okowa graduated in 1981 at age 22. After his service year in 1982, he worked briefly with the defunct Bendel State Hospitals Management Board as a medical officer before he went into private practice as director at Victory Medical Centre, Igbanke in 1986.
Later he opened another branch at Boji-Boji, Owa. Dr. Okowa's humanitarian disposition endeared him to his people as he often rendered free service to the very poor in the community.
According to people who have had dealings with the Senator, he displays highly developed craftsmanship in his work, and the evidence of his constructive leadership, according to his supporters, can be seen in his growing political profile. Dr. Ifeanyi Okowa served as secretary to Ika Local Government Area in 1991.
Then in 1993 he served as the first chairman of Ika North East Local Government Council. Returning to Private Medical Practice in 1994, he was an active political player in the Grassroots Democratic Movement and Peoples' Democratic Party (PDP) at its formative Stage.
He became the Commissioner for Agriculture and Natural Resources in 1999. In 2001, he served as Honourable Commissioner for Water Resources Development. He also served as Honourable Commissioner for Health in 2003 and became the Secretary to Delta state Government in 2007.
After three years as the Secretary to Delta state Government, he became a Senator from Delta North senatorial district in 2011 till the gubernatorial election 2015 which was a tremendous success. In this edition, we bring to you an icon and winner of 2015 gubernatorial election in Delta state.
Read on…
HIS CREDENTIALS
In all of his years in politics, he has believed that bridge building among politicians and non-politicians was key in the successful performance of assigned roles. This principle has helped him to build a large number of dedicated friends, political associates and partners in all fields of human endeavor across the state. These are friends he calls and relies upon in the journey of life. Having served as Senator and passed through various offices at both local and state government levels, he offers to serve his state as governor.
COMMITMENT
Okowa believes in the unity of Delta State. Unity is fundamental, and it shall be the driving force of his leadership with equity, justice, peace and security as partners. He plans to implement policies that will deepen inter- communal relationships and the unique features and character of the state.
No one can doubt his deep knowledge and commitment to the people of Delta state, to all the communities, the aspirations of the people, and the tremendous challenges facing them. His faith in Delta state is limitless, unwavering, and bountiful. Even when his constituency became delimited by law to Delta North, he never ceased to be of service to the entire people of Delta state.
PROGRAMME
It is an incontrovertible fact that the state and face of the Delta state economy and society have changed tremendously since 1999. There has been progress in peace and security, physical infrastructural development, in human capital development, and in driving forward the living conditions of the people and communities of Delta state.
However, progress itself generates new challenges. So it is not a case, therefore, that the achievements recorded in health and education and in peace and security are exhaustive and final. In fact, progress in these and other sectors have generated new challenges in developing Delta state.
Based on this reason and logic, his vision as governor of Delta state is, simply stated, to consolidate and advance the peace, progress, and prosperity of our beloved state. The following will be his primary areas of focus as governor of Delta State.
Strategic wealth creation projects and provision of jobs for all Deltans. Meaningful  peace building platforms aimed at political/ social stability. Agricultural  reforms and accelerated industrialization. Relevant health and educational policies. Transformed environment through urban renewal.
ACHIEVEMENTS
He has served the people of Delta state in various capacities: as Local Government Chairman, as Honourable Commissioner for Agriculture, as Commissioner for Water Resources Development, as Commissioner for Health, as Secretary to Delta State Government (SSG), and as Senator of the Federal Republic of Nigeria.
EMPOWERMENT PROGRAMME
He has empowered Deltans through diverse empowerment schemes and programmes which he intends to improve upon as Governor of Delta State.
STYLE
He sees himself as leader of a team, first of the Executive branch, and second, of the entire state. His team will consist of men and women who have talent, knowledge, skills and flair for management, team spirit and persons rooted in their communities. The Executive branch will be composed of resourceful persons with integrity and track records as models in their communities and the state. The composition shall reflect the character of Delta state.
With a revamped public service and an Executive branch under his watch, he envisions a Delta state that shall consciously promote a good working relationship with the state Legislature and Federal Government. In the same vein, the Local Governments shall be encouraged to work with the State Government through an economic planning board in a manner that our communities and the lives of our people shall be blessed and improved upon the tenure in which he is the Governor of Delta state.
PLEDGE
At the end of his tenure as Governor, Delta state will be one in which there are gainful employment opportunities, a flourishing agriculture and agric- business sector, effective health and educational systems, and renewed urban infrastructure and security that would enhance continued economic growth and the prosperity of all Deltans.
Subscribe for latest Videos