It is no longer news that Triple MG boss, Ubi Franklin and his record label first lady, Emma Nyra have called it quits. Yes, and it was not a matter they resolved at a roundtable, the once chummy-chummy duo took each other to the cleaners and put up a bit of a show on social media to fill their fans in on all the shindig that went down.
At a point in their creamier than cream relationship, the duo were virtually inseparable, which set tongues wagging that they must have been more than mere friends. While the hint of a relationship was being dropped around, neither Ubi nor Emma saw anything wrong with it. Until the song changed!
According to reports, the song changed for them when Ubi Frankin proposed to Nollywood actress, Lilian Esoro, presumably, shunning his ward who has been waiting in the wings for years. The song went from sorry to sad when Emma Nyra reportedly blurted out in an interview that she was never romantically involved with Ubi.
Now, the sad song went very bad when Ubi too granted another interview to counter Emma, saying they were at a point going out and claimed to have spent heavily in promoting her.
With push coming to shove, it seemed the accident waiting to happen could but only happen. Ubi refused to renew Emma's contract and she shrugged and walked away and reportedly relocated to her Houston, Texas base, while Ubi got to London either for business or pleasure. But trust your Potpourri, we tracked them down to bring you their reactions from their bases.
Ubi terrorised me for years – Emma Nyra
Beautiful and suave Emma Nyra, as I know her, is never a person that gets into acts to impress anyone. She is down-to-earth, friendly and responsive. She doesn't get into kinks most stars do, just for the hell of it. When I asked her if It was true that it was because Ubi Franklin dumped her for Lillian Esoro, was why she left the label,she answered with as much courtesy as an angry lady would.
"Obviously, this is a lie" she said in our Whatsapp chat. " Ubi and I never dated. Rather he terrorised me for years. He abused me and other members of the label with physical and verbal force. This is why I left Triple MG the first time. He claims he spent money on me but failed to mention that he never gave me my payment for all the tours I have done alongside Iyanya. The true story lies between me and other members of Triple MG who have all chosen to be silent because of fear of one man.
I do not support abuse of women or men. That is why I left. "I don't want to be involved with anything that has to do with Ubi Franklin ever again" she continued. "Honestly, I don't want to see my name associated with Ubi in any way. Let these lies die down. I am moving on with my career. Thank God".
Everything that's hidden will come to the open – Ubi Franklin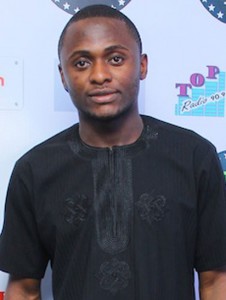 Seriously, I never really made an acquaintance of Ubi Franklin. I got to him through a mutual friend who gave me his bb pin. Bingo, the guy accepted me and got on to chat on the issue concerning Emma even when he didn't say much. He even called from London where he is, currently, courtesy of a gentleman, I must say. But what really must have gone down between a gentleman and a lady to put them asunder?
When I asked him what really went down between him and Emma Nyra, the Triple MG boss was as subtle as he could get. " In every matter of this nature, there is always your side, my side, their side and the truth. Only God knows the truth and in good time, the truth will come to light. God never sleeps. Everything that's hidden will come to the open in God's time. No need to speak to defend yourself or defend anyone" he said.