By Prisca Sam-Duru
The archbishop and president of the Gospel Baptist Conference of Nigeria and former chairman of the Christian Association of Nigeria, Lagos state branch professor Magnus Atilade, has decried the emerging trend of women hawking petroleum products in jerrycans on the streets, otherwise known as 'black market'.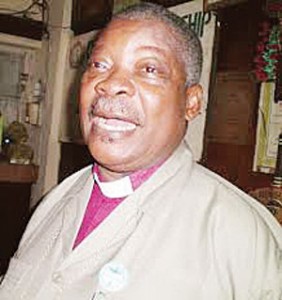 He did this while parleying with the media on Buhari's new administration for change in Nigeria in Lagos last week in his capacity as president of the Coalition of Christian NGOs and Christian Welfare Initiative (CWI).
While bemoaning the ongoing fuel crisis and the attendant socio economic effects to the society in the country's cosmopolitan cities such as Lagos, he said the quest for easy wealth has pushed women into a trade that was hitherto the preserve of men.
"It was very sad to see women- elegant women, beautiful women, well proportioned women standing in the sun. Could this be our daughters, sisters, wives who have been reduced to immoral, illegal hustlers? It is only a matter of time before they are drawn into prostitution and even kidnap!"
Lauding the decision of "elder Buhari" to drop the tag of 'General', he congratulated the president-elect and his vice, saying names are very important to the character that would be exhibited by every individual.
In addition, he announced that his organization of patriotic Nigerians will coalesce to form initiative for good governance for a new Nigeria, whose objective is to serve as a vanguard to monitor the welfare of Nigerians and to proffer well considered suggestions for good governance towards improved welfare of Nigerians and other sensitive issues as they arise in the nation.
Also calling for a religious balance in the four top constitutional positions so as to disabuse suspicion in the hands of a section of the country and religious bias, he declared that change must be Tangible, Measurable and Radical.
Other proffered suggestions included change from a certificate based objective in Education to achieve mass literacy, reintroduction of Moral lessons into schools and improved social security for Nigerians through effective economic empowerment programs.
Others include Policy of zero tolerance for corruption, full disclosure of government practice, economic diversification and elimination of Boko Haram within 100 days of the new administration.