By Funmi Ajumobi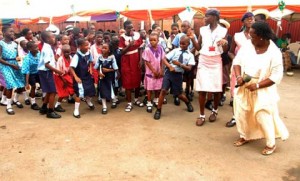 For the doubting Thomases who did not believe people were kidnapped by insurgents in the northern part of the country, the rescue of over 500 people, mostly females and children, by the military has put them wrong. The rescue showed that many innocent souls have been wasted by the careless attitude of our government. Seeing the way these people are malnourished, what they went through is better imagined.
No wonder the Chief of the Army Staff said in his speech that what matters most now is to take care of the returnees as Nigerians first before confirming from them if they are among the kidnapped Chibok girls. Now that 214 of the girls released are visibly pregnant, which is not a surprise because it had been long debated on different media platforms that the girls will never come back as girls but as mothers, where is the therapy for the girls?
Aside the NGOs and what the international bodies are doing, what has government done for the former hostages? Government was waiting for over 200 Chibok girls but they have seen over 500 returnees. Government should be on top of the situation by making sure everything that will make these people still believe they are Nigerians is done.
As hope rises everyday that Nigeria will soon be free from insurgents as promised by the President to hand over a country free of insurgents to the incoming president, Nigerian children are eagerly waiting for a future where they can be proud of anywhere they find themselves in the world; a future where they will not be treated as second class citizens in their own country;
a future where their school certificates will have the same value or higher value compared to the ones awarded abroad; a future where every citizen's life matters in every country in the world; a future where Nigerian citizens will be the pride of Africa and the world at large.