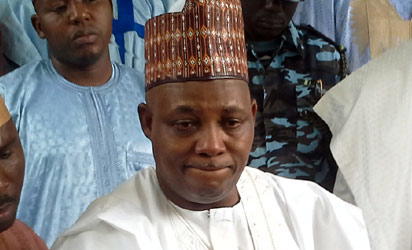 Shettima in tears
By Ndahi Marama
MAIDUGURI—Governor Kashim Shettima of Borno State and the Shehu of Bama, Alhaji Kyari Ibn-Umar Ibrahim Elkanemi, yesterday, visited Bama Local Government Area for the first time after it was captured on September 1, last year by insurgents.
Sources told Vanguard that the whole town was deserted as almost 90 per cent of houses and other structures were destroyed by the terrorists.
Addressing troops at the destroyed palace of the Shehu, including the historical artefacts, Governor Shettima commended them for their gallantry in recapturing and liberating most of the communities in the state, and urged them to continue to smoke out terrorists from their hideouts.
He noted that the purpose of his visit with the Shehu was to sympathise with the troops and the people of Bama over the recent attack in the area that claimed several lives with property worth billions of Naira destroyed.
"I am here to condole with the troops and the people of Bama over the spate of killings and destruction of our communities by insurgents. We will deploy all resources  to rebuild the destroyed houses.
"I have gone round the town and no government structure is still standing; 90 per cent of people's houses, shops, places of worships and banks have been destroyed, but I can assure you that we are here to assess the level of damage so that government will rebuild them to allow our displaced people come back and continue their normal lives.
"We have brought in surplus of food items for our troops and men of the civilian JTF who have sacrificed their lives for the progress of our state and the north east sub-region.
"I want to seize this opportunity to appeal to the Federal Government under the incoming administration of General Muhammad Buhari, international donor agencies and philanthropic organisations to come to our aide so that we can rebuild all our destroyed communities for people to go back to their homes.
"From Maiduguri-Bama Road, virtually all the communities along the main road have been destroyed, but by God's grace, we will defeat the terrorists and Borno State shall rise again stronger," Shettima stated.