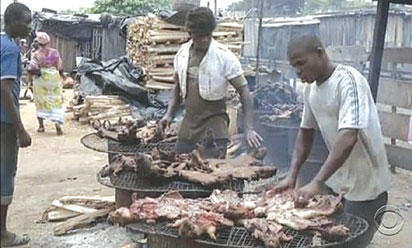 A veterinary doctor, Dr Victor Nwachukwu, on Tuesday urged the incoming National Assembly to make laws that would deter citizens from eating disease-infested meat. Nwachukwu told newsmen in Lagos that such laws would address selling and buying of dead meat in the country's abattoirs.
He spoke against the back drop of claims that butchers and sellers sell already dead meat for consumption in some parts of the country.
The doctor noted that the major concern in eating such meat would result in people contracting zoonotic diseases. "For meat sellers who sell unprocessed dead meat, there is the possibility or likelihood of their clothing, materials, knives, tables and hands getting contaminated with pathogenic bacteria.
"If these meat sellers handle other objects or fresh meat, there may be cross-contamination with the further potential to increase the rate of contracting an infection or disease,'' Nwachukwu said. He said the major health concerns associated with selling dead meat were mainly with respect to the issues of bio-safety.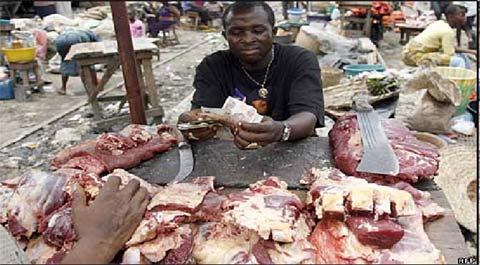 According to him, when an animal dies, some biological degradation processes occur. "In most cases, if the animal has been dead for over 24 hours, decay-causing bacteria begin to act on the dead tissues. "Some of these bacteria may be disease-causing and live or survive in the decaying tissue.
"Eating dead meat will depend on the condition of the meat, that is, if it is freshly killed or has been dead for a couple of days without adequate preservation.
"Freshly killed meat can still pose serious health risks if the dead animal is a carrier of disease-causing bacteria or viruses, especially zoonotic strains transmittable to humans. "If the animal has been dead for a while, such bacteria may still be present and may still pose an infection even when boiled in water at 100 degrees Celsius.
"Most of the renowned zoonotic bacteria include strains of Escherichia Coli (E.Coli) and Salmonella. "These bacteria are mainly found in the intestines of dead animals and cause severe haemorrhagic infections in humans who may have ingested meat contaminated by the aforementioned,'' he added.