By Chioma Obinna
Cardiac expert has raised alarm over the increasing incidences of hypertension among Nigerians saying that 30 out of every 100 adult Nigerians are hypertensive. A renowned cardiologist and President of the Cardiac Society of Nigeria, Dr. Amam Mbakwem in chat said over 30 million adult Nigerians are living with disease and handful of others yet to know their status. Mbakwem who advocated the need for Nigerians to adopt the culture of home monitoring of their blood pressures as part of efforts towards preventing complications arising from the killer disease warned that in most patient hypertension does not give signs or symptoms.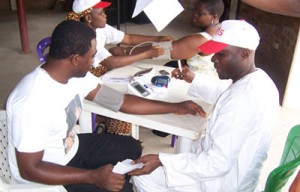 "Hypertension is one subject every Nigerian should be aware of. This is because the numbers are increasing in our nation. 15 to 20 years ago, it was like about 11 percent of adult Nigerians that will have hypertension but these days we are having figures like 30 percent and in some regional areas they figures are over 40 percent. She lamented that most Nigerians are ignorant of their status and are only diagnosed when someone checks their blood pressure or an organ has been damaged.
"It is not just the numbers whether it is 120 or 140 but the damage that it causes because with blood pressure high in the system, it is heating the brains and it can damage the brains and when that happens, we talk about stroke. It can damage the eyes it can cause blindness, the heart can fail, it can cause heart attack. It can damage the kidneys and the arteries in the body and that is why we want everybody to be aware and if your blood pressure is high, you should have yourself properly treated and checked," she added.
At the event by Omron Healthcare to mark the World Hypertension Day in Lagos, Mbakwem who noted that "Every adult must know their blood pressure numbers by maintaining a good habit of regular monitoring and medical checks with home high blood pressure checks like Omron. Anyone can be at risk for developing high blood pressure. On prevention, she said: "It has been shown that if you reduce what you eat you can actually reduce your blood pressure."
On his part, OMRON Healthcare, Country Manager, Abiodun Olugbenga said the most reliable method to determine blood pressure is to use a blood pressure monitor since the disease has no recognizable symptoms. "This can be performed by either a doctor or healthcare professional or at home using a portable blood pressure monitor such as OMRON Healthcare's line of clinically validated blood pressure monitoring devices."
Subscribe for latest Videos