•Intrigues over appointments responsible for crisis in Delta APC
COORDINATOR of Buhari Campaign Orgnanisation in Delta North Senatorial District, Dr. Iyke Odikpo, in this interview, speaks on what President-elect, Major-General Muhammadu Buhari should do in the next fours to stabilise Nigeria and how struggle for federal appointments has locked Delta State All Progressives Congress (APC) in crisis.
By Charles Kumolu
YOU were among the coordinators of Major-General Muhammadu Buhari's campaign organisation in Delta State, how was it like doing that in a state that is known as a stronghold of the PDP?
Working for General Buhari in a traditional PDP state was a difficult task, more so when the PDP candidate Goodluck Ebele Jonathan is from the South-South.
But some of us knew that the way PDP was managed its was difficult for them to win a federal election with good spread, so it made our job easier. PDP took Nigerians for a ride and mismanaged all the good will. So most people were tired of the total mismanagement, impunity and lack of respect for rules and regulation.
It was obvious that people were tired of PDP and needed to have a new lease of life. We had no option than to work progressively for their exit. Nigeria deserved more than what it got from the PDP.
I alongside other people of like minds in Delta State worked for Buhari's victory because we were confident that he would be a President of every Nigerian.
What was the attraction in working for Buhari's election?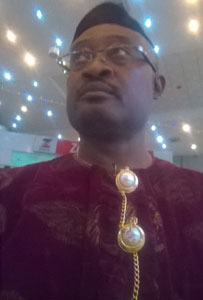 The attraction is Buhari's trade mark of zero tolerance for corruption. We all know that if you address corruption in Nigeria things will start working. Look at our exchange rate, as soon as GMB emerged winner our currency started appreciating. Many foreign countries started showing interest in working with Nigeria. Buhari is a brand. Buhari has a record in public service that stands him out. Such integrity is very rare in our society today. Why would I not work for such a person. We have got to a stage as a people where we can decide who will preside over our affairs. Nigeria and Nigerians deserve the best. The enthusiasm that has been following his victory is indicative of the fact that Nigerians made a wise choice by voting for him.
The reason for the attraction is simple and can be seen by anyone conversant with the life of Buhari. When you have a leader who detests ostentatious lifestyle and mannerism, people are bound to emulate him. Don't be surprise to see state governors and other elected officials being less materialistic in the next dispensation.
As a party, the APC will not disappoint Nigerians even though miracles should not be expected. But the level of goodwill that made our victory possible, is such that the APC would do everything to sustain it. A party that is progressively inclined like ours, would ensure that life is good for every Nigerian. The performance of APC state governors is a handy template any day. It is an assurance that at the national level, APC will provide responsive governance.
Don't you think that the inability of your party to come up with an acceptable formula for the sharing of political offices is likely to create some fault lines that may be harmful to the party?
APC is a large family but I am happy the President-elect is a disciplinarian and has said that all members should go back to the party at their local or ward levels.
Sharing of offices
Thus, in sharing offices all the party needs is to allocate positions to different zones and then state, then local government and finally ward. And in doing this, zones should take one after the other. The zone with president and vice president should take last. So we expect the other four zones to take Senate President, Speaker of the House of Representatives, Secretary to the Government of  the Federation,SGF, and BOT chairman. Then there will be another round of balloting for positions like Majority leader, Chief whip, Deputy senate president, Deputy speaker, etc.
What is the cause of the internal crisis ravaging Delta APC ?
The internal crisis in Delta APC is a fall out of our defective party congress and inability of the victorious group to be magnanimous in victory. Also with some external factors tele-guiding party exco activities. Also, the recent upsurge is due to the positioning for federal appointments. But some of us know very sincere and bold members who can panel beat APC in Delta State to shape quickly. History is never wrong and I remember what the current national chairman said to me in our inaugural meeting at Grand Hotel Asaba. 'Hope you guys will behave well this time. If you remember the old AC and ACN in Delta you will appreciate what I am saying.'
What is your vision for Nigeria in the next four years of Buhari?
My vision for Nigeria in next four years is categorised into short and long terms. Short term is to give the Nigerian people immediate solutions to our many problems. We must stop corruption like yesterday, change our national orientation from 'he is my brother so I must support him' or he is a Muslim or Christian mentality. Let's put our best hands forward. Quickly fix power and refineries and create mass community-base factories to employ school leavers.
Long term vision is to give Nigeria that direction that once made us giant of Africa in the modern world, so we should have modern cities with standard facilities.