By Davies Iheamnachor
PORT HARCOURT— TOXICOLOGISTS have advised residents of oil-bearing communities in the Niger-Delta to live with caution to ward off strange deaths and sicknesses caused by dangerous toxins deposited in their environment by oil companies in the course of oil exploration activities. Some of the toxicologists, who spoke to Niger-Delta Voice at the 4th International Conference of the West African Society of Toxicology, said many Niger Delta communities were prone to unsafe toxins.
Toxicologist and a senior lecturer at the University of Port Harcourt, Prof Roseline Konya, said Ogoni communities were very susceptible to the precarious toxins.
Ogoni very vulnerable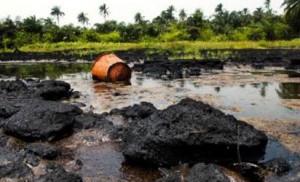 Konya, a former Commissioner in Rivers state, said, "There are several toxins that come from oil exploration activities that devastate the environment. "The chemicals inappropriately disposed into the environment have an irreversible effect and Ogoni communities are disposed to this.
"There is lack of sound chemical management in Rivers state, especially Ogoniland. Oil management is taken for granted. As oil creates jobs, so also it has caused pollution by throwing toxic material into the environment."
How to win pollution battle
"The fight against of oil pollution cannot be won except toxicologists are actively involved, they develop safer chemicals that will control pollution," she added. According to her, "Toxicologists are not supposed to come into work when the damage has been done to the environment, rather they should be actively involved to work alongside the oil explorers so that all chemical wastes would be handled appropriately."
"Several harmful chemical go into the environment on exploration. I encourage the toxicologists to be proactive. If we do not do something now, soon our waters may become lifeless."
Plant more trees
"I advice the people of the state and Ogoni to plant more trees in the environment, it helps in redeeming the environment. I also propose a collaboration of the scientists and toxicologists," she said.
Buhari should implement UNEP report
Mr. Cletus Lee from Gokhana local government in Ogoni, said the oil deposits have done a lot of harm to the ecosystem in the area, adding, "Ogoni is highly polluted, our stream water and fish are no longer safe for consumption." He called on the President-elect, Gen Muhammadu Buhari (retd.) to give quick attention to the implementation of the long abandoned UNEP report to enable the people have a better living and get rid of the dangerous toxins in the area.